Solana (SOL) is down 5.46% in the last 24 hours after Binance and OKX announced on Thursday that Solana USDT (SOL) and USDC (SOL) deposits would be suspended. The token is currently worth $13.64. This move comes after Crypto.com also halted USDC (SOL) and USDT (SOL) deposits, citing recent industry events.
Kris Marszalek, CEO of Crypto.com, said in a tweet,
"FTX was an important bridge/venue for SOL-based stablecoins, we do not want any additional risk to our users coming from this area, hence disabling it."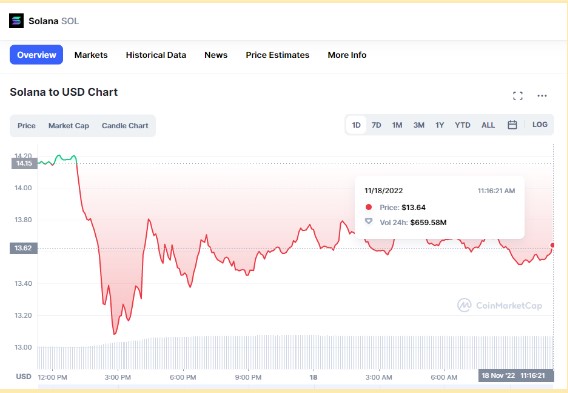 Binance stated:
"Deposits of USDC (SOL) and USDT (SOL) have been temporarily suspended until further notice.

Thanks for your support!"
OKX's latest announcement said:
"OKX will halt USDC and USDT deposits and withdrawals on Solana at 3:00 AM UTC on Nov. 17, 2022. The deposits and withdrawals of USDT and USDC on other networks will not be affected."
According to CoinMarketCap, SOL has declined by 3.75% and is currently trading at $13.64. The Solana drop is the latest in a series of setbacks for the crypto market, which has worsened significantly since the collapse of the crypto exchange FTX.
Solana has been among the worst affected by the recent FTX crisis because of the blockchain's strong ties with the crypto exchange. Since FTX's collapse, the token has undergone a significant sell-off, primarily as a result of speculation that Alameda was considering selling its SOL holdings.
According to previous reports, Alameda had approximately $1.15 billion in SOL as of June 30. The sum represents roughly 10% of Solana's market capitalization at the time.
The cryptocurrency crisis impacted all digital assets, but SOL remains among the worst-hit coins. The network has seen numerous network disruptions this year, which has caused investors' faith in the blockchain to be shaken.
If you would like to read more market analysis like this, visit DeFi Planet and follow us on Twitter, LinkedIn, Facebook, and Instagram.
"Take control of your crypto portfolio with MARKETS PRO, DeFi Planet's suite of analytics tools."