The world's most widely used digital tokens, Bitcoin (BTC) and Ethereum (ETH) are trading with notable gains. Most altcoins are also witnessing an increase in trading volume. As a result, there are currently bullish gains in the cryptocurrency market today. 
After falling as low as $15,500 in the previous week, Bitcoin appears to be regaining up to $1,000 this week. Bitcoin is currently trading at $16,799 with a $322.8 billion market cap.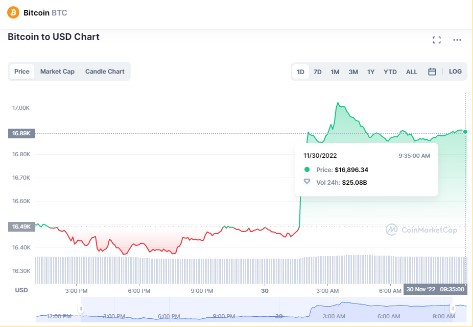 However, the second-largest cryptocurrency, Ether (ETH), which is native to the Ethereum blockchain, also increased in value over the past 24 hours, rising 4.14% in market cap and trading at $1,265. With a drop from over $1,600 to around $1,100, Ethereum was one of the most impacted altcoins in the aftermath of the FTX scandal.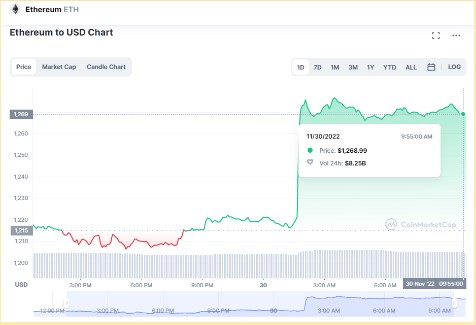 In the meantime, the price of Dogecoin (DOGE) today is $0.104, while Shiba Inu (SHIB) is trading at $0.0000093.
The performance of other cryptocurrencies, including Avalanche (AVAX), Polkadot (DOT), Uniswap (UNI), Polygon (MATIC), Cardano (ADA), and Litecoin (LTC), also improved over the past 24 hours.
Disclaimer: This article is intended solely for informational purposes and should not be considered trading or investment advice. Nothing herein should be construed as financial, legal, or tax advice. Trading or investing in cryptocurrencies carries a considerable risk of financial loss. Always conduct due diligence. 
If you would like to read more market analysis like this, visit DeFi Planet and follow us on Twitter, LinkedIn, Facebook, and Instagram.
"Take control of your crypto portfolio with MARKETS PRO, DeFi Planet's suite of analytics tools."