Changpeng "CZ" Zhao, CEO of digital-asset exchange Binance Holdings Ltd., spoke with Bloomberg about the FTX fallout, his deleted tweet about Coinbase, and crypto recovery funds.
When asked how much more contagion the crypto community is likely to witness in the aftermath of the FTX crash, he said there would be a little contagion, referring to Genesis suspending withdrawals. He continued, saying, "while there is some contagion, the industry is still fine." 
Furthermore, he clarified a tweet he deleted, which suggested that Coinbase and Grayscale were experiencing liquidity issues.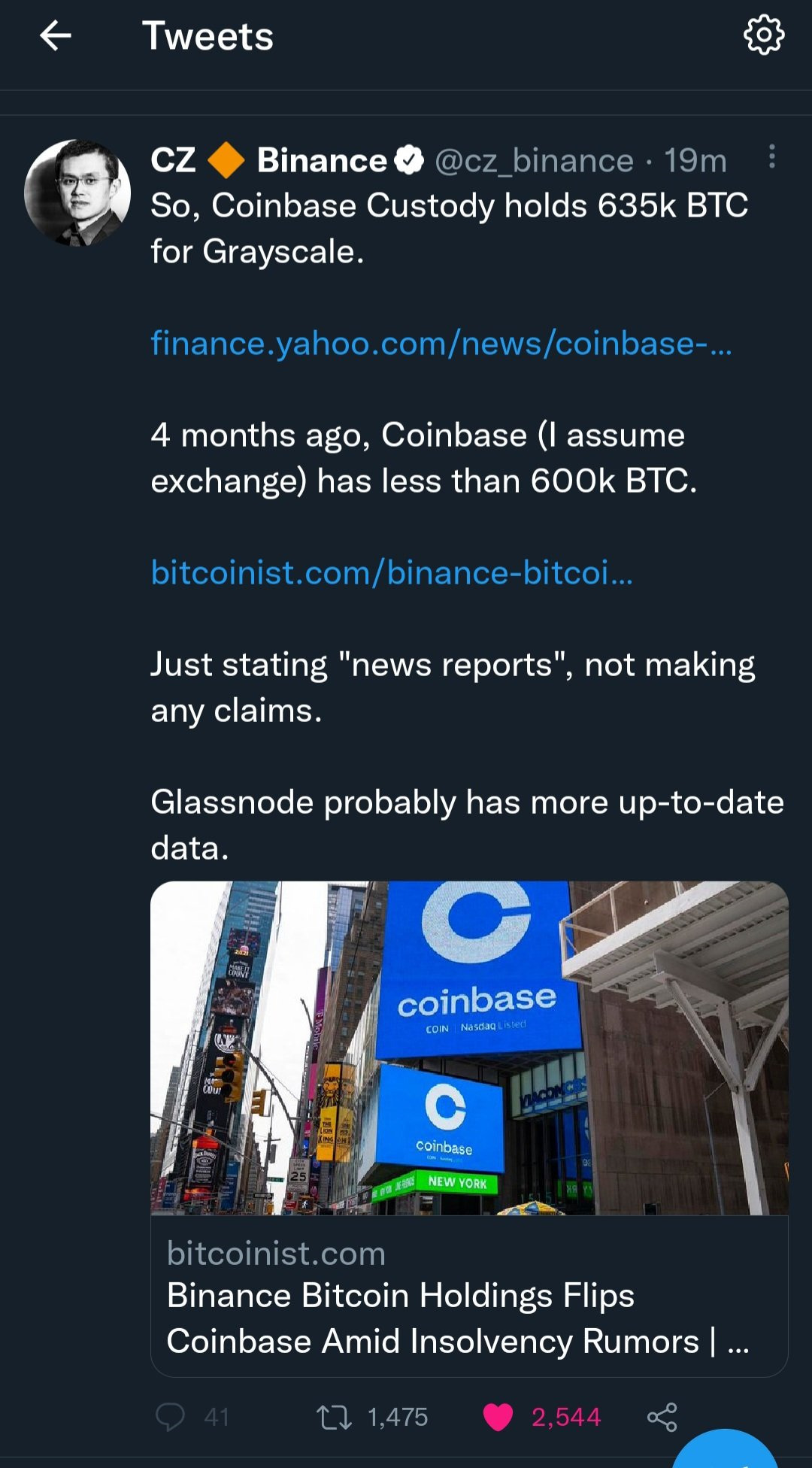 He stated that he was referring to two articles that provided differing reports on the number of bitcoins held by Coinbase. He also asserted that, while he deleted the tweet due to the confusion it caused in the crypto community, he has no issues with either company.
On the other hand, he blamed himself for not tweeting about FTX sooner, saying,
"As an industry, we let FTX get too big before we started questioning some of those things." 
Consequently, he stated his desire to take the approach of asking questions much earlier. 
He clarified that this new approach does not imply any attacks on other exchanges, but instead, he wishes to increase transparency and scrutiny in the industry.
Furthermore, he stated that, even though Coinbase has been around for up to ten years, its records are on the blockchain, which promotes transparency. 
When asked about his plans for the proposed crypto recovery fund, CZ responded that a blog post would be published explaining more about the fund. He also mentioned that the launch could be faster than expected because many industry players would require it.
Furthermore, CZ stated that the Bloomberg article claiming that he spoke with any industry players in Abu Dhabi about the industry fund was factually inaccurate. 
Although he met with a variety of people in Abu Dhabi for the Milken Conference, including the Abu Dhabi AGM, he would not reveal what was discussed. 
Finally, he said he might consider investing in FTX again after all the ongoing regulatory and law enforcement investigations are completed.
If you would like to read more news articles like this, visit DeFi Planet and follow us on Twitter, LinkedIn, Facebook, and Instagram.
"Take control of your crypto portfolio with MARKETS PRO, DeFi Planet's suite of analytics tools."