Many cryptocurrency investors today make investment decisions without an adequate understanding of the market. Despite the surging popularity of cryptocurrencies, a persistent fog of confusion, fear, and uncertainty still hangs over the industry.
This pervasive lack of knowledge not only impacts individual investors but has far-reaching effects on the market and the cryptocurrency industry as a whole.
To tackle this pressing issue, several platforms, such as Crypto Literacy, have launched campaigns aimed at encouraging people to learn more about digital currencies. 
As part of this initiative, Crypto Literacy conducted a quiz in 2022, reaching out to 1,000 individuals who were already acquainted with cryptocurrencies across the United States, Mexico, and Brazil.
Surprisingly, 91% of participants couldn't correctly answer more than 60% of the quiz questions, implying that many may be trading cryptocurrencies solely for speculative purposes, fueled by the allure of short-term gains or social media hype.
The current state of crypto investment literacy is cause for concern, and the consequences are multifaceted.
First and foremost, it leaves investors vulnerable to the highly volatile and unpredictable nature of the cryptocurrency market. Without a solid grasp of the fundamentals, investors are essentially gambling with their hard-earned money, risking substantial losses.
Also, this lack of knowledge among investors contributes to market instability. Wild price fluctuations driven by uninformed decisions can lead to rapid and severe market corrections, eroding trust and scaring away potential long-term investors.
On a broader scale, the industry's credibility is at stake. The cryptocurrency market's growth and mainstream adoption depend on fostering trust and confidence among various stakeholders, from retail investors to institutional players. When a majority of participants operate blindly, the industry's reputation suffers.
To address these concerns, investors must comprehensively understand digital currencies before making investment decisions. 
This article serves as a launchpad for cryptocurrency enthusiasts embarking on a journey towards becoming well-versed in crypto investment literacy.
What is Crypto Literacy?
Crypto Literacy is all about how well investors understand the cryptocurrency market. It's important to know that the current prolonged market downturn might not be the last. People relatively new to crypto investing might have been surprised by how bad things have gotten lately.
This demonstrates the necessity and value of crypto investors gaining investment literacy as this knowledge can help them make better decisions during periods of uncertainty.
Framework for Crypto Investment Literacy
According to Bybit, there are three major milestones for typical crypto investors. These include:
Choosing a crypto project.
Choosing a provider.
Managing their crypto portfolios.
Bybit developed a framework (illustrated below) to explain why each of these milestones matters and what we can learn to become better at investing in cryptocurrencies.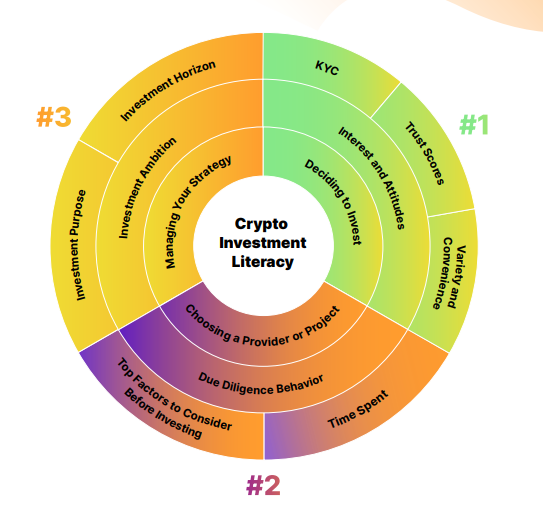 Crypto Investment Literacy Framework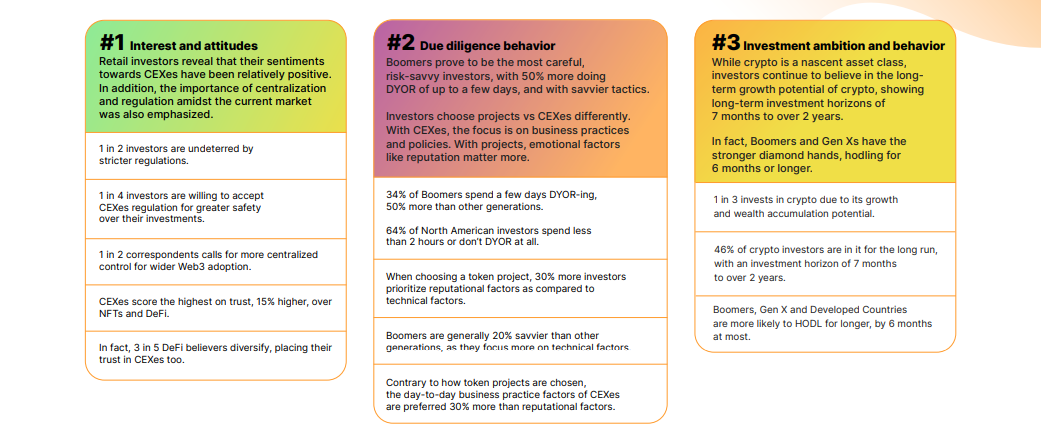 Investing in the crypto market requires meticulous research due to the massive number of existing cryptocurrency projects and their associated coins or tokens.
A Crypto Investment Literacy report by Bybit and Toluna emphasizes the distinction between researching crypto assets and traditional investments. This report collected data from 10,500 individuals across 19 different markets, including 1,748 who identified as "crypto investors." Its primary objective was to assess people's understanding of cryptocurrencies and their research practices before investing.
The report revealed that a significant number of Americans entered the cryptocurrency market without conducting adequate research. Specifically, 64% of North Americans spent less than two hours analyzing a cryptocurrency project before investing.
Some investors considered factors such as the reputation of the individuals behind a project, while others focused on technical details, including the functionality of a cryptocurrency and its intended use.
One thing to keep in mind is that just because a cryptocurrency seems credible doesn't mean it's a good investment asset. 
For example, let's look at the FTX exchange and its FTT token. The FTT token was designed to improve the utility of the FTX exchange. Using the token, users could earn free rebates and specific discounts on their trading fees. They could also stake FTT to receive high referral bonuses. 
FTT's value was solely hinged on the FTX's fortunes as it lacked utility extending beyond its local ecosystem and was borderline useless outside the exchange. For literate investors, this would've been enough warning not to over-invest in a centrally controlled token with an evident risk of a "single point of failure."
Unsurprisingly, most people who invested heavily in the token suffered significant losses after the exchange encountered serious issues, ultimately leading to its bankruptcy in 2022. This scenario underscores the importance of conducting thorough research before making any investment.
Different age groups exhibit varying levels of risk tolerance. Older investors, often called 'boomers,' tend to approach investments more cautiously. They prioritize technical analysis before making a decision. On average, they have about 20% more knowledge in this area. Also, around 34% of boomers spend several days researching their investments.
Benefits of Cryptocurrency Investment Literacy
The following are some of the benefits of crypto investment literacy:
Better Understanding of the Market
Investment literacy helps you grasp how the cryptocurrency market works. It allows you to recognize market trends and make informed decisions about buying or selling cryptocurrencies.
Reduced Risk of Fraud
Investment literacy equips you with the ability to identify potential fraud within the cryptocurrency market. You will be able to recognize warning signs and steer clear of scammers.
Improved Risk Management
Investment literacy can help you make a plan for managing risks when you invest in cryptocurrencies. Being able to effectively manage your risks will save you from huge losses.
Increased Returns on Investment
With adequate investment literacy, you can identify profitable investment opportunities in the crypto market. This enables you to assess the market and make prudent judgments that can improve your returns.
Smarter Portfolio Management
Investment literacy helps you efficiently manage your crypto portfolio. You can diversify your investments and make well-calculated decisions to improve the overall performance of your portfolio.
How to Improve Your Crypto Investment Literacy
Understand Why You Are Investing in Crypto
Before you start investing in cryptocurrencies, it's essential to know why you want to do it. Keep in mind that there are many investment options, some of which are safer than cryptocurrencies.
Do you want to invest in cryptocurrencies just because they're trendy, or do you have a specific reason for choosing a particular token? 
People invest in cryptocurrencies for various reasons, so it's crucial to define your goals.
Understand How Crypto Works
Before you dive into cryptocurrency investments:
Make sure you understand the basics of how the crypto world operates.

Take some time to familiarize yourself with cryptocurrencies beyond the well-known ones like Bitcoin and Ether.

Try to grasp the concept of blockchain technology, even if you don't have a computer science or coding background.
If you've decided to invest in a specific cryptocurrency, find out about its practical use cases and what sets it apart from the competition. The more you know about cryptocurrencies and blockchain technology, the better equipped you'll be to evaluate investment opportunities.
Develop an Investment Strategy
Create a strategy that aligns with your expertise, whether long-term, short-term, or market-neutral. If you're new to cryptocurrency investing, it's advisable to avoid shorting frequently. You can use various tools like futures, spot contracts, options, and perpetual contracts to manage risk or increase potential returns.
Join an Online Crypto Community
Since the cryptocurrency industry evolves rapidly, staying informed is crucial. One reason for the industry's growth is the active community of enthusiasts and investors who share knowledge and insights. Consider joining online communities such as X, CoinMarketCap Community, Facebook, etc., to stay updated on what's happening in the world of cryptocurrencies. 
Choose a Trading Platform
There are various ways to trade cryptocurrencies, but be aware that using DeFi (Decentralized Finance) platforms may require more expertise. Most centralized exchanges offer a wide range of options, including futures, spot contracts, and structured products. When depositing your funds, make sure to check the exchange's Proof-of-Reserves to be sure your funds are adequately backed up.
Read Crypto Whitepapers
Don't rely solely on word of mouth when assessing a cryptocurrency. Take the time to read the whitepaper associated with a project before making an investment. Every cryptocurrency project should have a whitepaper, and its absence should raise a red flag.
A whitepaper is a valuable resource for understanding the project's goals. It typically includes a timeline, a comprehensive overview, and specific project details. If a whitepaper seems incomplete or misleading, it could indicate underlying problems with the project.
In Conclusion
Learning how to invest in cryptocurrencies is a lifelong journey that demands dedication, knowledge, and the willingness to take calculated risks. You can become a more informed and successful crypto investor by applying the knowledge and skills acquired throughout this process.

To develop crypto investment literacy, start with small investments and stay updated on the latest news, trends, and regulations in the crypto market. This will increase your chances of making profitable investments.

It is important to note that crypto investment is not a get-rich-quick scheme. To succeed, you need perseverance, diligence, and self-control. Understand the risks involved, invest only what you can afford to lose, and you'll be on the right track.
Disclaimer: This article is intended solely for informational purposes only and should not be considered trading or investment advice. Nothing herein should be construed as financial, legal, or tax advice. Trading or investing in cryptocurrencies carries a considerable risk of financial loss. Always conduct due diligence.
If you would like to read more articles like this, visit DeFi Planet and follow us on Twitter, LinkedIn, Facebook, and Instagram, and CoinMarketCap Community.
"Take control of your crypto portfolio with MARKETS PRO, DeFi Planet's suite of analytics tools."