Blockchain has much potential to bring positive changes to the travel and tourism industry, just like it did in finance, but it's not talked about enough.
The travel and tourism industry makes up about 7.6% of the global economy, which is a massive $7 trillion market. Ignoring the potential of new technologies in this sector means missing out on what it could become.

Thankfully, using blockchain in travel doesn't have to be complicated. We don't need to start thinking about blockchain-powered airplanes or cruise ships.
Instead, we can focus on the simple yet time-consuming processes that often make travel a hassle, like booking flights, comparing options, reserving hotels, and managing loyalty points and bonuses.
Blockchain solutions, like Camino, have been specifically designed to address these pain points.

Camino network, developed by Chain4Travel AG, a Switzerland-based travel solutions firm, aims to bring innovative improvements to the multi-trillion-dollar travel industry. 
But what exactly are the benefits of Camino for the travel industry? In this article, we'll review Camino's whitepaper and explain in simple terms how it aims to make travel better.
What is Camino?
Camino is a semi-permissioned consortium blockchain specifically tailored to improve the travel industry. 
The platform seamlessly integrates the transparency inherent in public blockchain networks with the data privacy features of private blockchain systems, thereby offering its clientele the best of both worlds while ensuring regulatory compliance.
Within this framework, the network grants access to specific data points, such as airline behaviour reports recorded on-chain, while safeguarding individuals' sensitive information, including ID records and travel specifics used in flight ticket bookings.
Unlike networks like Ethereum, where data is publicly accessible, Camino prioritizes data security and confidentiality. Its core advantages stem from the inherent features of blockchain technology, including immutability, transparency, security, and speed, all while preserving privacy.
These combined advantages enable service providers within the travel industry, including airlines, hotels, vehicle rental agencies, etc., to significantly improve their product and service offerings.
In essence, Camino serves as a centralized hub with various service providers acting as distinct spokes, interconnecting with the network. 
These entities collaborate closely with blockchain developers to leverage the Camino blockchain's capabilities and create tailored solutions that cater precisely to the demands of their customer base.
These solutions span from decentralized applications (dApps) that simplify flight and hotel bookings to faster payment services and transparent systems for air traffic control and regulatory monitoring of flight paths.
Camino effectively emancipates service providers in the travel industry from the constraints imposed by conventional fragmented systems, enabling them to harness blockchain technology's potential to optimize operational efficiency and enhance service quality.
Camino is supported by over 150 prominent service providers in the travel and tourism sector, underscoring its relevance and impact within the industry.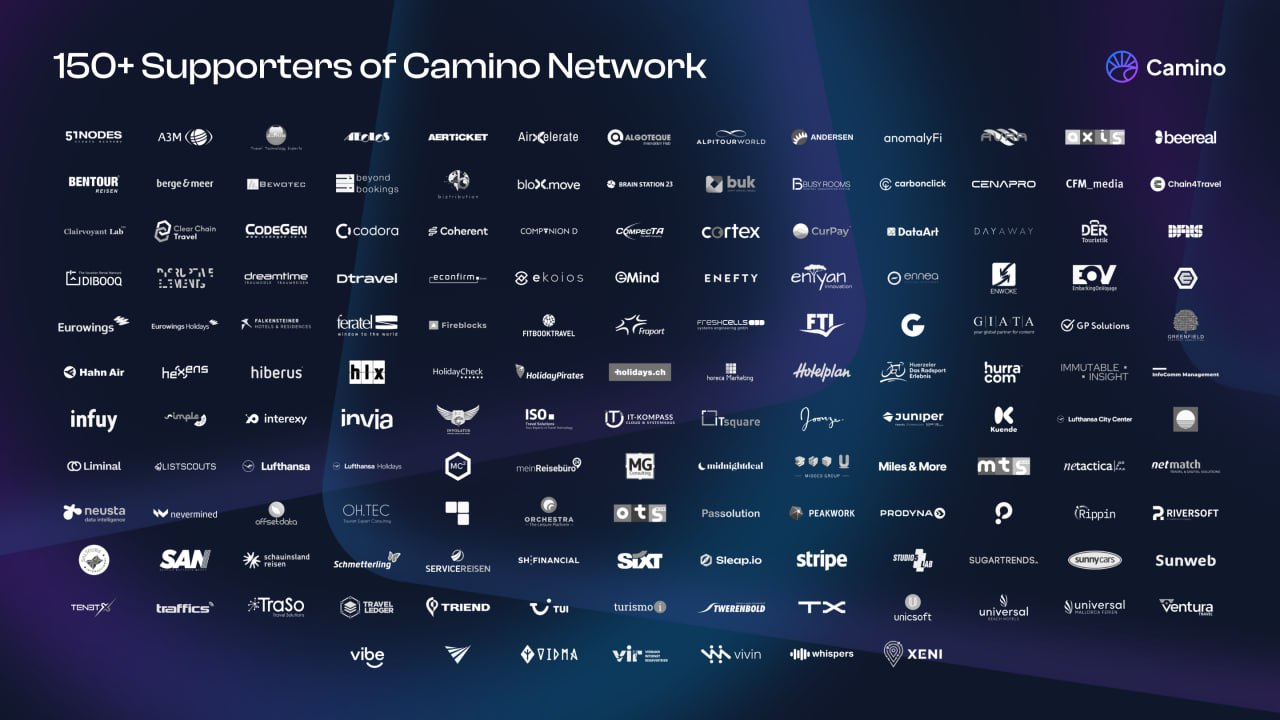 But what sets Camino apart in terms of security? Why is it an ideal choice for the travel and tourism sector? 
In the subsequent sections, we will delve into these crucial aspects, providing a comprehensive understanding of Camino's robust security measures and its suitability for the travel industry.
How Does Camino Work?
The Camino blockchain consists of three unique components (chains), each with a specific application that makes the network suitable for diverse use cases.
Camino is Ethereum-compatible. This allows developers on EVM (Ethereum Virtual Machine) compatible chains like Ethereum and Arbitrum to deploy their smart contracts on the Camino chain without having to learn new programming languages.
The Camino consortium secures the network through the Proof of Stake and Authority (PoSA) consensus mechanism. This consortium comprises service providers in the travel industry who act as validators in the Camino ecosystem.
Validators on the Camino network play a crucial role by operating nodes that secure the network and validate transactions. 
For instance, if you were to make pre-travel payments for a hotel through the Camino network, these validators are responsible for verifying that the receiving party can indeed deliver the services you are paying for. This verification process ensures secure and reliable transactions.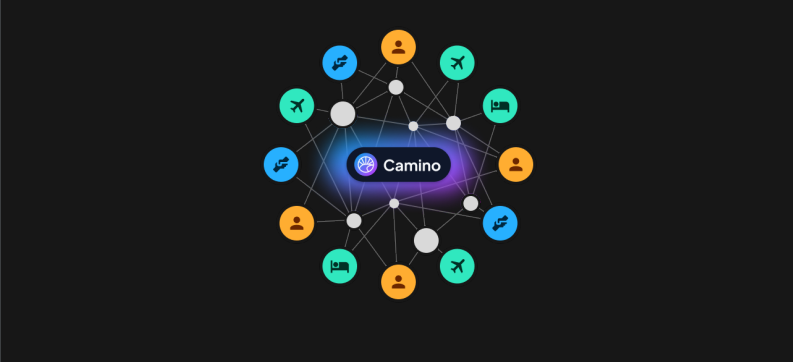 The Camino consortium also plays a significant role in deciding companies that join the Camino blockchain. Consortium members vet companies in the travel industry that have proposed to join the consortium as either validators or service providers.
New members must meet the Camino blockchain's KYC requirements before being accepted.
This semi-permissioned nature adds an additional layer of security to the network, as only authorized service providers in the travel industry get to make up the Camino consortium as either validators or service providers.
In the following sections, we explore the stand-out features of the Camino blockchain.
Features of the Camino Blockchain
Products and services built on the Camino network naturally inherit the features of blockchain, from speed to transparency and security. Beyond that, we explore some other features of the Camino network that make it suitable for the travel and tourism industry. These features include the following:
Predictable transaction cost:

Unlike other blockchain networks, like Ethereum, Camino offers a stable and predictable transaction fee system. This is crucial for the travel industry, where transactions are often based on a "buy now, pay later" model. With Camino, you can easily determine gas fees even during unpredictable periods, making it more feasible for the travel industry.

Interoperability:

Camino addresses the issue of fragmented processes in the travel industry. By providing a shared tech infrastructure, different travel companies can work together seamlessly and process transactions faster. Additionally, Camino's compatibility with EVM-based smart contracts makes it easy to launch and run them on the network. This flexibility makes it easier to integrate existing solutions from Ethereum into Camino.

Scalability:

Camino prioritizes speed, making it a great choice for the travel industry. Unlike Ethereum, which sometimes suffers from congestion and slow transaction processing, Camino's PoSA consensus ensures that transactions are processed instantly and efficiently.
Camino's CAM Token
The Camino network's economy is based on its native CAM token. One billion CAM tokens are expected to be in circulation and distributed to Camino ecosystem participants.
On the Camino network, the CAM token can be used for a variety of purposes, including:
Paying for gas: This is the cost of carrying out transactions and operations on the network.

Participating in securing the network: People can become validators by staking their CAM tokens, helping to make the network safe and reliable.

Participating in the governance of the Camino consortium: Token holders can vote on important decisions that affect the network.

Incentivizing developers: Those who create useful dApps (decentralized applications) on the network can receive CAM tokens as rewards.
While the Camino blockchain offers many benefits for the travel and tourism industry, there are also some reasons why it might not be the best fit. Let's explore these in the next section.
Potential Challenges of the Camino Blockchain in the Travel Industry
Here are some challenges facing the Camino blockchain 
Limited decentralization
The Camino blockchain is designed to be semi-permissioned, which means it's not entirely decentralized like traditional blockchains. In a fully decentralized blockchain, no single entity has control, but with Camino, a group of consortium members can decide whether to allow a new member into the group.

Since all participants are known, there's a risk that some members might collaborate to block access for a new participant for personal reasons. This goes against the core principle of decentralization.
Adoption
Introducing a blockchain solution like Camino in the travel and tourism industry could face hurdles due to the relatively new nature of blockchain technology. Many people in the industry may not fully grasp the benefits of using blockchain or how to implement it effectively. 
For widespread adoption, it's crucial to educate all involved parties about the potential advantages of blockchain and address any resistance to change they might have.
Future Outlook of the Camino Blockchain
The future of the Camino blockchain in the travel and tourism industry looks promising, but some challenges are ahead.
With its focus on addressing pain points in the travel and tourism industry through blockchain technology, Camino has the potential to significantly improve processes related to booking flights, managing loyalty points, and improving overall travel experiences.
One thing to consider is that Camino's semi-permissioned blockchain isn't completely decentralized, which might bother some blockchain purists. But this choice also makes it easier for existing travel businesses to adopt the technology since it complies with regulations and offers security.
Compared to congested networks like Ethereum, Camino is more efficient and scalable. It can process transactions faster, which is great for the travel industry. Plus, it provides stable transaction costs, which helps service providers.
The success of Camino in the travel and tourism industry will depend on how well its development team can collaborate with and convince industry stakeholders of the benefits and feasibility of blockchain technology.
To succeed, Camino's team needs to work closely with industry stakeholders and show them the benefits of blockchain. It might take time for widespread adoption, but with the support of over 150 service providers already, Camino has a strong start.
If Camino can overcome challenges and gain more acceptance, it has the potential to transform the travel and tourism sector. This will lead to smoother and more enjoyable travel experiences for consumers and increased efficiency for service providers.
Disclaimer: This article is intended solely for informational purposes and should not be considered trading or investment advice. Nothing herein should be construed as financial, legal, or tax advice. Trading or investing in cryptocurrencies carries a considerable risk of financial loss. Always conduct due diligence.
If you would like to read more articles like this, visit DeFi Planet and follow us on Twitter, LinkedIn, Facebook, Instagram, and CoinMarketCap Community.
"Take control of your crypto portfolio with MARKETS PRO, DeFi Planet's suite of analytics tools."