Dogecoin's (DOGE) charts showed a marginal 1.13% dip on May 16, dropping the coin's price to a week low of $0.07139 with a 24H trading volume of $220.62M. The token has, however, recovered and hit a $10 billion market cap amid increasing interest from major investors and other related developments.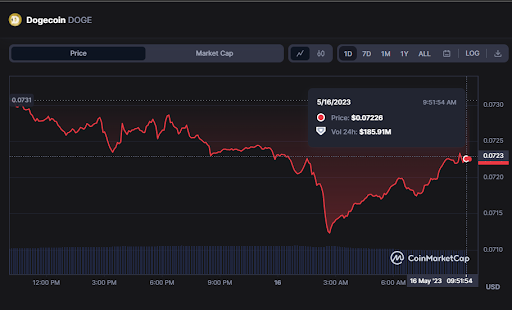 DOGE had been on an irregular downward trend since the start of the year, losing 10% between May 8-12, and experiencing an overall 22% decline in the last 30 days. DOGE's momentum has been significantly lower compared to other cryptocurrencies.
While these developments indicate that DOGE may be facing significant challenges, with investors growing increasingly concerned about its long-term growth potential, the meme-inspired token has demonstrated resilience by consistently keeping above the $0.07200 support level over the last few days. This gives reason to believe that the coin may be resistant to further declines in the near future.
DOGE Bounces Back, Surpasses $10B Market Cap; Concerns Over Whale Activity and Elon  Musk's Influence
Market Setback and Remarkable Recovery
On May 12, 2023, DOGE experienced a sharp setback in its pursuit of reaching the $10 billion market cap mark. The entire market had spiralled into a downturn, with DOGE trading at $0.7028 and Bitcoin (BTC) taking a 4% dip. However, DOGE has since made a remarkable recovery, successfully hitting the $10 billion market cap. This resurgence can be attributed to sustained interest from prominent investors.
Whale Activity 
A whale alert revealing the transfer of 299,999,999 DOGE, valued at $21,733,783, from an unknown wallet to Binance raised debates about the transferor's intentions and its potential impact on the market. Additionally, the activation of a 9-year dormant Dogecoin address holding 1.5 million DOGE suggests a potential selling intention by the owner amidst the varied activity exhibited by other significant DOGE investors.
🚨 299,999,999 #DOGE (21,733,783 USD) transferred from unknown wallet to #Binancehttps://t.co/ajMhmuUaxU

— Whale Alert (@whale_alert) May 9, 2023
💤 A dormant address containing 1,556,994 #DOGE (123,155 USD) has just been activated after 9.3 years!https://t.co/BpWr0etUk1

— Whale Alert (@whale_alert) May 4, 2023
General Market Trends and Outlook: 
The last few weeks have witnessed a surge in interest in meme tokens, as exemplified by a remarkable 600% increase in the value of PEPE within the past few weeks. While this memecoin craze has yet to affect DOGE, it is conceivable that traders might redirect their attention towards DOGE once the excitement surrounding PEPE wanes. The mixed nature of DOGE whale activity, with some transferring funds to exchanges and others withdrawing funds, complicates the market outlook even further.
🐕🪙🐋🚨

9,999,996 $DOGE ($705,570 USD) was transferred from a #Binance wallet to an unknown wallet.

Fee: 0.125 ($0.009 USD)

Tx: https://t.co/Aon5YWzap8#DogecoinWhaleAlert #WhaleAlert #Dogecoin #CryptoNews

— Ðogecoin Whale Alert (@DogeWhaleAlert) May 12, 2023
Community's Reaction to New Twitter CEO Appointment
The appointment of Linda Yaccarino, the former chair of advertising sales at NBCUniversal, as the new CEO of Twitter has elicited conflicting reactions from the Dogecoin community. Critics particularly highlighted Yaccarino's WEF connections and previous involvement with DOGE-related accounts on Twitter, which raises concerns about her association with the cryptocurrency sector and its potential impact on the market.
Honestly, very disappointed in this news and much less hopeful that "business operations" at T(w)itter will integrate #dogecoin – or any crypto – for payments.

Yaccarino's @wef connections are impossible to overlook. Her appointment is not net positive for freedom of thought… https://t.co/AEeit1EErO

— Ðogecoin Whale Alert (@DogeWhaleAlert) May 12, 2023
Elon Musk's Influence on DOGE's Stability: 
DOGE's market performance is still heavily influenced by billionaire Elon Musk, posing a significant risk to the company's long-term viability. DOGE market's decline has been attributed by some to Musk's sudden silence on the cryptocurrency he previously openly supported. 
Relying on the endorsement of a single person, especially one who is not directly involved in the development or maintenance of the cryptocurrency, can result in an unstable market prone to sharp price swings.
Future Aspirations and Integration Possibilities
Despite the risks associated with Elon Musk's influence, the Dogecoin community aspires to see Twitter, under Musk's ownership, integrate cryptocurrencies and enable DOGE payments in the foreseeable future. Such integration could have a profound impact on DOGE's market performance and its wider adoption.
Doge will survive! Doge will outperform everything when Elon Musk integrates doge into twitter! #doge pic.twitter.com/ubLYdmFli9

— Crypto Daily Trade Signals (@cryptodailyTS) May 3, 2023
Contrasting Predictions on Long-Term Prospects; Can DOGE Reach $1 in 2023?
Wallet Investor, known for its thorough market analysis, advises caution for those considering DOGE as a long-term investment option. Their analysis suggests that DOGE is unlikely to reach the $1 mark by the end of this year, with a projected price range of $0.00233 to $0.00699. This assessment indicates that DOGE may be considered a high-risk investment for those seeking significant returns.
Contrasting Wallet Investor's perspective, Myles G. Investment, a famous investment YouTuber, presents a more optimistic outlook for DOGE. According to Myles G. Investment, there is a possibility of DOGE experiencing a significant bullish surge within the next year, potentially reaching the $1 milestone. 
DOGECOIN UPDATE AND PRICE PREDICTION!!!!
Digital Coin Price, another respected market analysis platform, provides valuable insights into DOGE's potential growth trajectory. Their analysis indicates a projected 251.54% increase by the end of 2025, with a target price of $0.26. However, it is worth noting that their analysis does not foresee DOGE reaching a value of $1 within the specified timeframe. Their assessment, based on technical indicators, suggests that DOGE's price by the end of December 2023 could be approximately $0.0842.
Disclaimer:
This piece is intended solely for informational purposes and should not be considered trading or investment advice. Nothing herein should be construed as financial, legal, or tax advice. Trading or investing in cryptocurrencies carries a considerable risk of financial loss. Always conduct due diligence.
"Take control of your crypto portfolio with MARKETS PRO, DeFi Planet's suite of analytics tools.