Pepe Coin (PEPE), an Ethereum-based cryptocurrency inspired by the popular internet meme and cartoon character "Pepe the Frog," has made a strong debut in the cryptocurrency market since its launch in April 2023. Within a short period, the coin has secured a spot among the top 100 cryptocurrencies by market capitalization and emerged as a strong competitor in the meme coin sector.
PEPE's impressive value surge has outpaced all its peers by a considerable margin, making it the best-performing cryptocurrency in recent weeks. The coin experienced a remarkable increase of 525% in just two weeks, surpassing the likes of Shiba Inu (SHIB) and Dogecoin (DOGE) and clocking new all-time highs.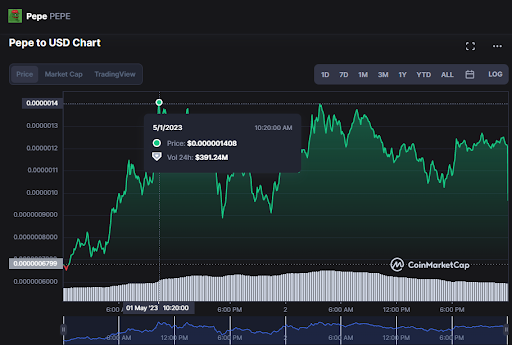 On May 1, 2023, the coin's market capitalization skyrocketed to approximately $894 million, setting a record price of $0.000001408. The PEPE rally is showing no signs of slowing, indicating the strength of the momentum driving the meme coin's growth.
JUST IN: $PEPE entered top 100 on https://t.co/k4aUfne70j after hitting new all time high $0.00000107 pic.twitter.com/pyIXgrq1sn

— CoinGecko (@coingecko) May 1, 2023
OKX Lists Pepe Trading Pairs
Following its spontaneous rise to fame, PEPE has now been listed on several major exchanges, including MEXC Global, Bitget, Gate.io, Huobi, and, most recently, OKX. 
OKX announced the listing on May 1, 2023, with trading starting at 17:00 Hong Kong Time (HKT) on the same day. The exchange added that withdrawals would be available on May 2.
🚨 #Memecoin New Listing Update 🚨 $PEPE @pepecoineth gets listed on #OKX!

📈 PEPE/USDT Spot Trading: 9:00 am May 1 (UTC)

Details: https://t.co/jzMvhs0QaH pic.twitter.com/VRnX3glD5Q

— OKX (@okx) May 1, 2023
Binance also released an official buying guide for PEPE, which has generated significant interest among members of the cryptocurrency Twitter community. This has led some Twitter users to speculate that Binance may be considering listing PEPE on its platform soon.
PEPE Declines by 8.39%, but Holders Surge to Over 74,000
However, PEPE's whirlwind price surge was stalled by a marked decline on May 3,with an 8.39% drop forcing the coin down to 0.0000008502, according to CMC data. This slight dip was also reflected in the coin's 24H trading volume, which fell by 36.64% over the same period. Despite experiencing a decline, Pepe's current market price stands at $0.000002019, with an impressive 24-hour trading volume increase of 170.43%. Notably, Pepe has surpassed its recent support level of $0.000002, indicating that the recent decline on May 3 did not turn out to be as detrimental as expected.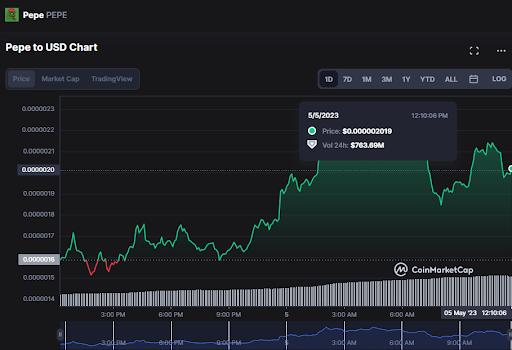 Despite the dip, the number of PEPE holders has surged, with the latest data showing over 74,000 holders. This is a significant increase from 43,000 on April 25 and 7,500 on April 17, indicating growing interest and demand for the token in the market. 
Is PEPE a Potential Scam? Discussing Issues Surrounding the Coin's Origins
The PEPE coin has no affiliation with Matt Furie, the originator of the Pepe the Frog meme. However, the anonymous identity of the individuals behind PEPE has raised concerns about potential fraudulent activities such as pump-and-dump or rug pulls. 
The use of a privacy service associated with multiple scams to register PEPE coin's official domain further amplifies these concerns. These facts suggest a clear departure from the transparency expected of legitimate enterprises.
A recent study by Lookonchain uncovered that five addresses associated with PEPE's 'pepecexwallet.eth' wallet had acquired 7.76 trillion PEPE tokens during the initial stages of the coin's launch and subsequently sold them on the market, tucking in a tidy profit of approximately $1.23 million. This finding suggests the parties involved may be using market manipulation strategies to acquire considerable financial gain.
1/ We found that 5 addresses related to pepecexwallet.eth bought 8.87T $PEPE at a low price, and the cost was ~0.19 $ETH ($385).

Then sold 7.76T $PEPE for $1.23M on #DEX, made nearly $1.23M (3,200x)! pic.twitter.com/hIvTJX6UTK

— Lookonchain (@lookonchain) April 24, 2023
CMC also posted the disclosure below warning investors about issues with PEPE's circulating supply: 
"Although PEPE claims that its entire supply is circulating, there are signs that certain insiders/team members were able to buy 7% of the total supply minutes after TGE in what was purportedly a 'fair' launch. In view of this, the burden of proof is on the PEPE team to address these observations and prove that the entire supply is indeed circulating."
Crypto Community & Influencers Weigh In on $PEPE's Potential as an Investment Opportunity
The cryptocurrency community has been abuzz with chatter about the prospects of PEPE, despite recent concerns about the developers and a dip in the coin's value. Some investors remain optimistic, as evidenced by comments on social media platforms like Twitter and YouTube.
A Twitter user, @guywithjpegs, likened PEPE's current market performance to a pivotal moment in sports history, specifically when Michael Jordan was banned from basketball. He encouraged investors to HODL their $PEPE, notwithstanding negative market sentiment and potential fraudulent activity.
listen up anon
This $pepe price is the equivalent of when Michael Jordan got banned from basketball and played baseball for a year. Don't let the scammers scare you out of your bag
We know the story and what happens next #pepecoin #pepe #FROGSOVERDOGS @pepecoineth pic.twitter.com/6ohaWesCPk

— SLebrity.eth 🐸 (@guywithjpegs) May 3, 2023
Another Twitter user, @ASHisREAL_, saw the dip in value as an opportunity for more investors to enter the market at a lower price point, leading to a broader token distribution and potentially increasing its market capitalization. The user also advised fellow investors not to worry and to HODL confidently.
However, not all influencers in the cryptocurrency space are bullish on PEPE. Joe Parys Crypto, a prominent YouTuber, warned that purchasing the coin at its current overvalued price carries more risk than buying it two weeks ago. He cautioned that investing in the coin when overvalued could result in a 90% drop, leading to a significant loss, and that although the coin may increase by 100 or 200%, it remains a risky investment.
🔥TURN $27 into $4,240,471.20 WITH PEPE MEME CRYPTO COIN? WHAT YOU MUST KNOW!!! (URGENT!!!)
ClayBro, another prominent YouTuber, pointed out that as the number of PEPE holders increases, new investors may leverage them as exit liquidity or ride the wave and see their investment multiply by 2x. However, ClayBro also noted that PEPE's growth potential is massive, potentially reaching 10x or even 100x, making such a scenario not out of the realm of possibility.
PEPE Coin | PEPE Is Hitting All-Time Highs Eying $1 Billion Market Cap!
Despite the several concerns about PEPE, the token has made significant strides in the cryptocurrency market, with a remarkable surge in value. The growing number of holders and listings of PEPE trading pairs on prominent exchanges demonstrate the increasing demand and interest in the token. However, investors must carefully weigh the potential risks and rewards associated with investing in the meme coin, particularly given recent developments in the market.
Ultimately, only time will tell whether PEPE will continue to experience significant growth and gain legitimacy as a digital asset.
Disclaimer: This piece is intended solely for informational purposes and should not be considered trading or investment advice. Nothing herein should be construed as financial, legal, or tax advice. Trading or investing in cryptocurrencies carries a considerable risk of financial loss. Always conduct due diligence.
If you would like to read more market analysis articles like this, visit DeFi Planet and follow us on Twitter, LinkedIn, Facebook, Instagram and CoinMarketCap Community.
"Take control of your crypto portfolio with MARKETS PRO, DeFi Planet's suite of analytics tools."