Cryptocurrencies have gained widespread popularity in recent years, but they have also lost significant value due to the aggressive monetary policies implemented by central banks around the world and the dramatic collapse of digital tokens such as LUNA, TerraUSD, and Solana. 
Fears of a recession, rising inflation, and other weak macroeconomic indicators have shaken investor confidence in risk assets, causing the overall crypto market to become highly volatile and leading to the collapse of several crypto platforms, including FTX and BlockFi. 
This year has been difficult for crypto investors, with most major assets experiencing sharp price declines since their all-time highs. The total market capitalization of all cryptocurrencies has dropped below $1 trillion, down from around $2.3 trillion at the end of December 2021. 
Some analysts believe the crypto market will recover from this bearish season, citing lower inflation and central banks' less hawkish policy stance. This article explores expert insights on what the future holds for cryptocurrencies. 
Tarusha Mittal (COO and Co-founder of Dapps and Unifarm)
According to Mittal, on a macro level, the collapse of FTX is actually beneficial for the industry because it serves as a reminder that decentralization is at the heart of Web3. Businesses that do not have a strong foundation and significant investments will be eliminated, and only legitimate business models will survive. The failure of FTX serves as a reminder that the purpose of cryptocurrency is to eliminate centralized entities.
Mittal also stated that if the consequences of FTX's bankruptcy persist, Bitcoin may experience further drops in price. Ethereum typically follows the trend of Bitcoin, as it is the second-largest cryptocurrency by market capitalization. Some analysts predict that the price action of these two cryptocurrencies may soon become independent. 
Punit Agarwal (Founder, KoinX)
According to Punit, 2022 was a wake-up call for the cryptocurrency industry, highlighting that nothing is ever perfect. Despite a promising start to the year, various factors, such as the LUNA crash and FTX collapse, arose, ruining the party. Additionally, the global tech economy is struggling, leading to predictions of an ongoing crypto winter this year.
However, it is important to note that the cryptocurrency industry has a bright future. The development of new blockchain technologies and their use in decentralized finance (DeFi) have the potential to greatly increase the value of digital assets, benefiting the industry and those working within it. 
Dhruvil Shah (SVP-Technology, Liminal)
Global inflation has continued to rise, putting pressure on crypto assets such as Bitcoin and Ether. Throughout the year, however, Bitcoin remained a highly resilient digital asset, emerging as a crusader for true decentralization with rock-solid support from blockchain investors. Even after a 60% swing, Bitcoin's fundamentals remain unchanged. 
Marc Despallieres (Chief Strategy and Trading Officer at Vantage)
There is a widespread belief that Ether, the second-largest cryptocurrency by market capitalization, will likely experience a significant increase in value in 2023. Some experts predict that the value of Ether will reach $2,500 in 2023, almost doubling its current price. It is worth noting that Ether was launched at a price of $0.311 just seven years ago, making its price increase truly phenomenal. 
Shivam Thakral (CEO of BuyUcoin)
Thakral noted that the financial markets are influenced by a large number of macroeconomic and microeconomic factors, which all have a significant impact on various asset classes. The FTX implosion is commonly seen as a purging of the cryptocurrency ecosystem, with companies that have weaker foundations being eliminated from the market. According to him, a global agreement on the regulatory framework for digital assets must be reached.
Thakral predicts favourable macroeconomic conditions in 2023, citing hints from central banks about loosening monetary policies and interest rates. Inflation will be a crucial factor in determining the future of global financial markets. The cryptocurrency industry will recover from the collapse of FTX (and other cryptocurrency giants) and enter a more mature phase with sound regulations and more cautious investors. 
Nick Saponaro (CEO of Divi)
Nick's insights are outlined as follows:
Bitcoin will eventually reach its bottom.
It is difficult to determine the duration of the current crypto market downturn, known as "crypto winter," because global economic conditions will continue to influence the timing of the next market recovery.
Nick predicts that we may see another drop before a gradual recovery.
The previous bear market lasted over two years, and we are currently only one year into the current one. However, the macroeconomic environment has significantly worsened.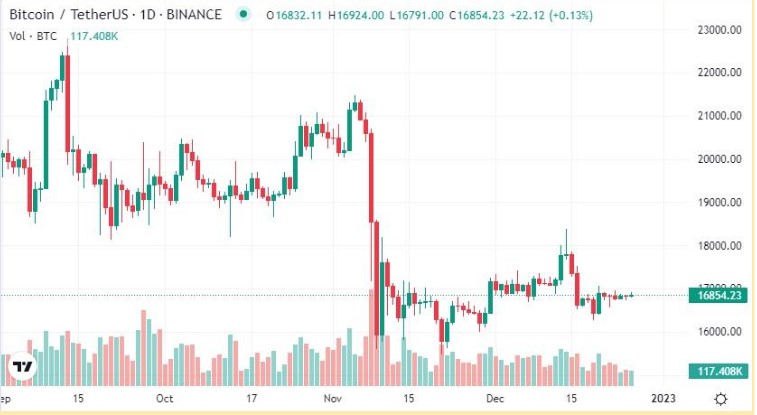 Growth will only occur when we have reached the bottom
However, this will not occur while the dollar remains strong. The market will need to crash in order for this to happen. Although the market is already experiencing losses, it has not yet impacted Main Street. When it does, we will know that we have hit rock bottom. 
The next bull market will begin with a recession
Nick predicts that a recession will begin in 2023, as there are already indications of its imminent. Treasury yields are reaching new highs while the stock market is experiencing new lows. The COVID-19 pandemic has resulted in slowed production, which is likely to continue for an extended period, leading to stagnation and inflation. 
Consumers are hesitant to spend due to low retail confidence, as they are concerned about the cost-of-living crisis. The stock market has already been negatively impacted and will continue to suffer as investors convert their holdings to cash to avoid further losses. However, once the market stabilizes, these investors will reinvest in commodities. 
Bitcoin's store of value narrative will be revived
It is not unusual for stores of value, such as gold and bitcoin, to experience a decline in value during a recession. However, these assets often recover faster than other assets when the recession ends. 
Bitcoin, in particular, behaves like a commodity and serves as a valuable store of value, similar to gold. Even in a challenging economic climate, there is still demand for bitcoin, particularly as a means of payment for eCommerce and financial services. 
Corporate adoption will propel widespread adoption
Next year, brands will play a key role in driving the widespread adoption of Web3 technology. In the coming year, more pilot programs will be implemented as corporations continue to assess the potential of Web3. They will also reevaluate the use of NFTs as a revenue-generating strategy by incorporating them more strategically into their business models. 
One example is Starbucks' Odyssey loyalty program, which demonstrates how cryptocurrency and blockchain can be effectively used to create mutually beneficial schemes for both businesses and customers. 
In the coming year, we expect to see further development of underlying app chains, making it easier for businesses to build on them. However, there will also be a process of consolidation as some weaker crypto projects struggle to scale while others gain greater relevance.
Services will be a significant growth driver
Nick believes utility will play a vital role in the crypto space in 2023. Without it, all we have are catalysts for speculation. As more use cases emerge and more people build on the blockchain to leverage that utility, the value of the underlying delivery system for that utility—the coins—will rise. People's interest will grow as the price rises. 
Retail interest will be reinvigorated
DeFi and NFTs were instrumental in driving adoption during the previous bull run. According to Nick, NFTs were especially significant in this regard because they made it easy for people to understand and get involved in cryptocurrency.
The metaverse will expand into other markets
According to Nick, the metaverse is currently in the testing phase. More brands will be testing metaverse applications to showcase to customers in the coming year. This will be the first step in integrating the general public. Nick predicts that by 2023, businesses will embrace the metaverse by installing brand pop-ups in retail and commercial spaces.
However, the definition of the metaverse extends beyond just VR and gaming. It is a part of our reality that combines both mixed and augmented reality. Essentially, it is anywhere that technology enhances our perception of reality. 
In Conclusion
The events of 2022 will have a lasting impact on the cryptocurrency market. However, despite the uncertainty, there are some notable differences between this bear market and the previous cryptocurrency "winter." 

One key difference is that institutional adoption of cryptocurrency remains strong. Many investors now have a long-term perspective and understand the cyclical nature of these markets.
Disclaimer: This article is intended solely for informational purposes and should not be considered trading or investment advice. Nothing herein should be construed as financial, legal, or tax advice. Trading or investing in cryptocurrencies carries a considerable risk of financial loss. Always conduct due diligence. 
If you would like to read more articles like this, visit DeFi Planet and follow us on Twitter, LinkedIn, Facebook, and Instagram.
"Take control of your crypto portfolio with MARKETS PRO, DeFi Planet's suite of analytics tools."