On August 7, 2023, PayPal marked a significant milestone with its foray into the cryptocurrency sector. The renowned global digital payment firm launched its inaugural cryptocurrency product, the PayPal USD (PYUSD) stablecoin, backed by a blend of US dollar deposits, short-term US. Treasuries, and comparable highly liquid assets.
PYUSD operates on the Ethereum network and aims to streamline various transactions, including seamless transfers between PayPal accounts and external wallets, simplified peer-to-peer payments, convenient checkout purchases, and seamless cryptocurrency conversions.
PYUSD as an ERC-20 Token: A Catalyst for Ethereum Adoption or a Step Towards Centralization?
The launch of PYUSD elicited a mix of excitement and skepticism within the crypto community, with discussions about its potential to accelerate Ethereum's mainstream adoption. Some members expressed concern that the stablecoin could become centralized, given its issuance as an ERC-20 token
Anthony Sassano, a well-known Ethereum educator, commented on the development, noting that though Ethereum is gradually evolving into a global foundational layer for various forms of value exchange, Sassano believes that PYUSD's presence will be critical in advancing the blockchain network's journey toward becoming a robust monetary infrastructure.
PayPal just announced that they are launching a USD stablecoin, called PYUSD, as an ERC20 token on the Ethereum network

Ethereum is slowly but surely becoming a global settlement layer for all types of value

— sassal.eth 🦇🔊 (@sassal0x) August 7, 2023
The Ethereum network currently boasts an impressive daily active user count, ranging between 300,000 and 400,000, underscoring the vitality of its ecosystem.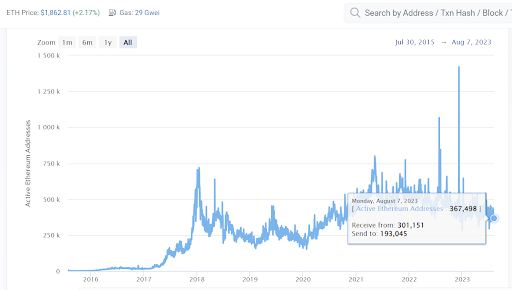 Martin Koppelmann, CEO and co-founder of Gnosis, added that PYUSD's introduction on Ethereum's base layer would extend compatibility to Ethereum Layer-2s, enabling interaction with PYUSD. 
In a tweet, prominent crypto investor Ryan Sean Adams shared the Ethereum contract address for PYUSD and commented on Ethereum's remarkable journey, noting, "We've made remarkable strides."
PYUSD's Centralization Concerns
PYUSD's launch raised concerns from some crypto community members due to fears of its impact on decentralization and control over user assets.
Smart contract auditor Pashov Krum identified a major flaw in PYUSD's design – a vulnerability called "asseProtection" in the underlying smart contract. This flaw could make users lose their balances in just two transactions.
Krum pointed out that functions like "freezefunds" and "wipefrozenfunds" in the Solidity contract create vulnerabilities, leading to what he called "centralization attack vectors."
Another independent smart contract auditor, RD Auditors, echoed Krum's concerns and confirmed the presence of functions allowing the freezing and wiping of addresses within the stablecoin's smart contract. 
They also mentioned that the Ethereum-deployed smart contract functions as an "Upgradeable Proxy," which means that the deployer can modify the code however they want.
PayPal would have frozen their stablecoin balances, too. https://t.co/COvtwkBvPD

— Chris Blec (@ChrisBlec) August 7, 2023
Copycat Tokens Exploiting PYUSD Hype Flood the Market
Amid ongoing discussions about the PYUSD-Ethereum integration and concerns about centralization vulnerabilities, opportunistic actors are capitalizing on the hype by introducing imitation tokens.

As of August 8, 2023, data from the DEXTools decentralized exchange scanner revealed the existence of over 66 counterfeit coins on various networks, including Ethereum, BNB Chain, and Base. Remarkably, a significant number of these fake tokens had found their way onto Ethereum, the designated platform for the genuine PayPal USD token (PYUSD).

🚨ALERT: Scammers have taken advantage of PayPal's newly introduced $PYUSD stablecoin, generating more than 66 counterfeit tokens across various networks such as #Ethereum, #BNBChain, and #Base. The majority of these fraudulent tokens are on the Ethereum network, where the…

— DeFi Planet (@PlanetDefi) August 8, 2023
Unsuspecting investors who acquire these counterfeit PYUSD tokens get locked into a situation where selling becomes impossible, resulting in the unintentional handover of their crypto.

The genuine PYUSD token was created in November 2022 and can be verified using the contract address provided. Paypal clarified that PYUSD transfers are only available to verified accounts and compatible wallets. This reduces the possibility of any tokens with the same ticker being misidentified as genuine.

Meanwhile, Huobi, a cryptocurrency exchange, has unveiled plans to list PYUSD. In an official statement, the exchange proudly declared itself "the first exchange to support the launch of PYUSD stablecoin, and will provide PYUSD/USDT trading pairs with zero trading fees permanently."

While Huobi's exact listing date for PYUSD is unknown, the exchange emphasized its commitment to start trading as soon as optimal market circulation and liquidity conditions are met.
Calls For Regulatory Clarity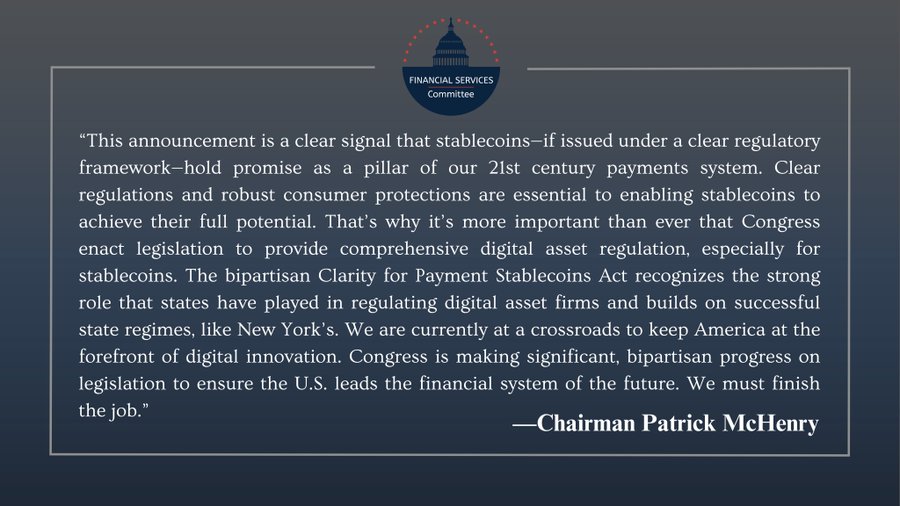 Patrick McHenry, US Congress Representative and Chairman of the Financial Services Committee, also weighed in on the PYUSD launch. He emphasized the need for well-defined regulations and robust consumer protections to support the potential of stablecoins.
McHenry stressed Congress's role in creating comprehensive regulations for digital assets, especially stablecoins, stating that well-defined rules and safeguards are crucial for maximizing their benefits.
In Conclusion,
While the integration of the PYUSD with Ethereum provides opportunities for mainstream adoption, concerns about centralization and vulnerabilities remain. As the market reacts and evolves, careful oversight and regulatory clarity will be critical for capitalizing on the potential of stablecoins and shaping the future of blockchain-based finance.
Disclaimer: This piece is intended solely for informational purposes and should not be considered trading or investment advice. Nothing herein should be construed as financial, legal, or tax advice. Trading or investing in cryptocurrencies carries a considerable risk of financial loss. Always conduct due diligence.
If you would like to read more market analysis articles like this, visit DeFi Planet and follow us on Twitter, LinkedIn, Facebook, Instagram, and CoinMarketCap Community.
"Take control of your crypto portfolio with MARKETS PRO, DeFi Planet's suite of analytics tools."