Africa is undergoing a significant cryptocurrency revolution, primarily driven by its youth population. This surge is a response to factors like unstable fiat currencies – best exemplified by Nigeria's struggling naira, the growing use of crypto for cross-border transactions, which offers a more efficient and cost-effective solution compared to traditional methods and the emergence of crypto trading options such as peer-to-peer (P2P), spot, arbitrage, and futures trading which has provided a new source of income for millions of unemployed youths. 
Notably, the International Monetary Fund (IMF) recorded a remarkable monthly peak of $20 billion in crypto transactions by mid-2021, highlighting the magnitude of crypto adoption in the continent.
However, as the crypto industry expanded, it encountered a range of challenges on a global scale. These challenges encompassed regulatory and compliance issues and several instances of protocol hacks and scams, among others. 
The crypto winter, which started in late 2021 after the price of Bitcoin peaked at around $68,000 in November 2021, basically worsened things as it caused heavy financial losses for investors (both retail and institutional), consequently triggering a wave of industry-wide company fails, bankruptcies, layoffs, increased criminal activities and a host of other adverse events.
The reliability of centralized exchanges also came into question, giving rise to the widely accepted notion: "Not your keys, not your coins." These challenges set the stage for the predicaments faced by Patricia, a well-known African cryptocurrency exchange.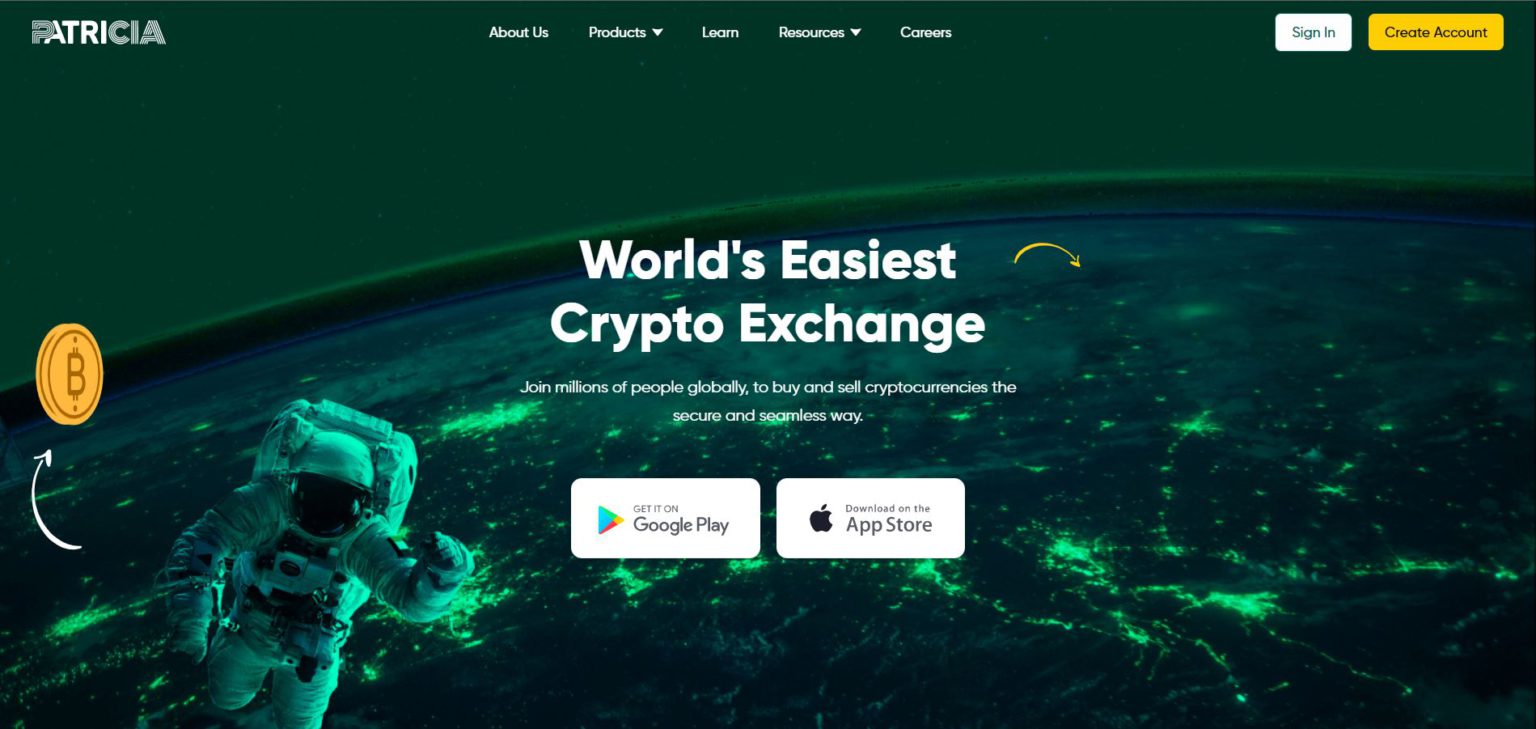 Patricia swiftly gained prominence after its launch, redefining African cryptocurrency interactions. The platform not only facilitated easy buying, selling, and secure storage of Bitcoin but also introduced Africa's first crypto debit card, promoting adoption. 
In 2021, Patricia expanded its services by adding Ethereum (ETH) to its supported cryptocurrencies, further solidifying its place in the regional cryptocurrency landscape. Patricia's rapid growth transcended borders, offering services across multiple countries, and all indications pointed to a promising future.
However, the narrative took a dark turn as Patricia encountered a series of setbacks, culminating in an unprecedented crisis. The exchange abruptly froze customer withdrawals in May 2023, ascribing the suspension to a cyber breach reported in January 2022, which resulted in a reported loss of approximately $2 million. 
These challenges have, however, now been eclipsed by a fresh, highly controversial move: the conversion of users' Bitcoin (BTC) and naira (NGN) balances into Patricia's native token, PTK. Executed without user consent, this conversion sparked anger and disbelief among users and the broader fintech and cryptocurrency community.
As Patricia grapples with the aftermath of these controversial actions, its future hangs in the balance. Can it regain the trust of current users and potential newcomers? 
This article comprehensively explores the multifaceted Patricia controversy, dissecting the events leading to the unauthorized asset conversion. It also examines the controversy's impact on the platform's operations in Africa, particularly Nigeria, its largest market.
What is Patricia?
Patricia, founded in 2017 by Fejiro Hanu Agbodje, is an integrated alternative payments and e-commerce platform where investors and merchants can transact with digital currencies like Bitcoin, gift cards, and perfect money.
The platform was built to bring Africa into the digital currency age with blockchain technology, innovation, and payment solutions. Patricia also launched an academy where Africans can access a wealth of educational content on buying crypto assets and help users clarify any doubts they have about the cryptocurrency market.
Patricia also launched a virtual card powered by chip and pin technology, which can be used to withdraw funds from Bitcoin ATMs and conduct cryptocurrency transactions. 
As stated earlier, Patricia started having liquidity issues, which have now been attributed to a $2 million hack. Instead of immediately notifying users about the situation, the company converted users' crypto and naira assets into a native token called the Patricia Token (PTK).
Native tokens are a specific kind of digital currency that functions exclusively within a certain blockchain platform. They serve various purposes, such as transactions, accessing platform features, and participating in governance decisions. Unlike general-purpose cryptocurrencies, native tokens are closely tied to the functionalities of a particular blockchain.
One significant advantage of having a native token is that it simplifies asset transfers without relying on smart contracts. This token type can be easily transferred alongside other types of crypto tokens. Furthermore, since the token's logic is managed within the blockchain's ledger, the presence of a native token minimizes the risk of human error.
According to a report from Techpoint, Oluseyi Akindeinde – CTO – of Digital Encode Limited, stated, 
"Launching a native token is a way of raising funds for many exchanges. Anytime these tokens get launched, the exchange mostly holds a large amount of the tokens and whenever the value of the token rises the company makes more money."
Major Red Flags with Patricia's Token Launch 
Patricia launching a native token in an attempt to recover losses or create a substitute value for its users is not necessarily a bad idea, especially considering its potential benefits for the company. 
When Bitstamp, one of the world's oldest cryptocurrency exchanges, wanted to expand its business operations, the company opted for fundraising tactics to extend its services to retail and institutional crypto clients. Existing customers were kept informed throughout the entire process.
However, in the case of Patricia, the company decided to launch its native token without notifying its customers. Users were not involved during the decision-making phase, and this decision came not very long after a security breach that resulted in heavy financial losses.

Consequently, this move is now raising suspicions, with customers questioning the security of the native token and whether the company has a genuine motive behind its creation.
Let's delve into some of the suspicions and questions raised by customers that highlight potential issues with the creation of PTK.
Unilateral Conversion of User Balances Without Consent
On August 18th, Patricia made an  announcement through its official account on X (formerly known as Twitter) regarding the upcoming launch of a new app called "Patricia Plus." The announcement also stated that all existing BTC and NAIRA balances would be converted and recorded as Patricia Tokens (PTK) – a stablecoin backed by the U.S. Dollar.
Following the announcement, disgruntled customers took to social media to express their dissatisfaction with the platform's actions, as the ongoing issue of suspended asset withdrawals since April remained unresolved.
This Patricia app has ruined me!!! Over two million naira! And this app is toying with my asset! @EFCC please look into this matter, Why will you convert my Naira to a coin after I sold BTC to your company? Who told you I need your coin? This is daylight robbery!!!

— Highzy (@highzy) August 24, 2023
Patricia's unilateral conversion of customers' Bitcoin and Naira balances into a native token without their consent was deemed a gross violation of trust. Unsurprisingly, customers started questioning whether they still retained ownership of their funds or if the exchange had ulterior motives for this action.
A major issue that has emerged now is that if customers were allowed to withdraw their funds, PTK could become depegged, and those who are slow to process withdrawals would incur substantial losses.
Attempts to contact Patricia's team regarding these issues have proven unsuccessful. Some customers are contemplating legal action against the platform, while others are speculating about the potential outcomes of Patricia's actions.
PTK Not Available On Any Crypto Aggregator or Blockchain 
Another red flag that customers have noted since the launch of the Patricia Token (PTK) is its absence from leading crypto aggregators, such as CoinMarketCap and Coingecko. 
These platforms are renowned for providing information about various tokens, including real-time values, token issuance quantities, contract addresses, and launch blockchains.
In contrast, data regarding the actual value, token issuance quantities, and the token's contract address for the recently launched PayPal stablecoin (PYUSD) on the Ethereum blockchain is already available on these crypto aggregators.
The delay in providing this information by Patricia is causing frustration among customers, which does not bode well for the company. Trust is a cornerstone of the cryptocurrency industry, and Patricia's actions might drive customers away, tarnishing the exchange's reputation. This, in turn, undermines its future viability and deters potential investors interested in African crypto projects.
Final Thoughts
Failing to keep customers' assets safe is already sufficient grounds for charging Patricia with breach of trust. This puts them in a precarious situation where they would either need to restore customers' assets to their initial Bitcoin and Naira balances, refund users in Naira or risk shutting down operations. 
Patricia's decision to convert users' funds into a native token is already raising legal questions and could attract regulatory scrutiny. Regulatory bodies might investigate whether the exchange's actions comply with relevant laws and regulations pertaining to customer protection, transparency, and fair business practices. Based on precedence, once regulatory bodies become involved, it could become more difficult for the crypto industry to thrive in Africa.
It remains unclear how Patricia intends to reassure its concerned customers with the January 2022 hack, the current suspension on withdrawals, and the subsequent conversion of customer funds into Patricia Token (PTK). The company's failure to address inquiries from users or the media has further casted a shadow of uncertainty on the firm's future.
Given the current circumstances, once Patricia's withdrawal function becomes active, it is highly likely that customers who gain immediate access to Patricia tokens will swiftly sell their assets to reclaim their funds and terminate their association or trading with Patricia. This would inevitably result in the supposed native token losing its peg, and customers unable to withdraw during this frenzy may ultimately lose their funds.
Disclaimer: This article is intended solely for informational purposes and should not be considered trading or investment advice. Nothing herein should be construed as financial, legal, or tax advice. Trading or investing in cryptocurrencies carries a considerable risk of financial loss. Always conduct due diligence. 
If you would like to read more articles (news reports, market analyses) like this, visit DeFi Planet and follow us on Twitter, LinkedIn, Facebook, Instagram, and CoinMarketCap Community.
"Take control of your crypto portfolio with MARKETS PRO, DeFi Planet's suite of analytics tools."