A consequential end (or pause) came to what could be described as arguably one of the most important legal cases in the history of cryptocurrency in the United States. Ripple secured a partial victory in its three-year-long legal battle with the US Securities Exchange Commission (SEC).
This outcome felt like a hard-earned triumph for both Ripple and the broader cryptocurrency industry. Most importantly, it led to a significant surge in the value of XRP, with investors showing renewed confidence in Ripple's future prospects. 
Let's start with what led to this saga.
Ripple vs. SEC: The Backstory
Ripple has been embroiled in a prolonged legal battle with the US Securities and Exchange Commission (SEC) since December 2020 over the sale of its native token, XRP.

The US SEC filed a lawsuit alleging that Ripple Labs conducted an unregistered securities offering worth $1.3 billion through its XRP token. 
Today, the SEC voted to attack crypto. Chairman Jay Clayton – in his final act – is picking winners and trying to limit US innovation in the crypto industry to BTC and ETH. (1/3) https://t.co/r9bgT9Pcuu

— Brad Garlinghouse (@bgarlinghouse) December 22, 2020
The securities regulator  claimed that Ripple's sale of XRP to the general public in 2013 was similar to an Initial Public Offering (IPO) and that XRP should be classified as a security. The lawsuit also accused Ripple's executives, Brad Garlinghouse and Chris Larsen, of engaging in unregistered personal XRP transactions, collectively valued at approximately $600 million.
Ripple's Reply and Defence
Ripple Labs initiated its legal defence in March 2021. The company contended that the US SEC had not adequately provided fair notice regarding the regulatory status of XRP. Additionally, Ripple's legal team asserted that the SEC displayed bias in its application of securities regulations to cryptocurrencies, including XRP. 
A major turning point for Ripple's Defence came in June 2023 when the court ruled that certain documents, which the US SEC had insisted remain undisclosed, be released to the public.

The documents consisted of emails written by the former SEC Corporate Finance Division Director, William Hinman. These emails were about a 2018 speech in which Hinman expressed his view that both Bitcoin (BTC) and Ether (ETH) should not be classified as securities.
Ripple's Partial Victory
On July 13, 2023, Judge Analisa Torres of the United States District Court in the Southern District of New York ruled that the XRP token is not to be classified as a security when it is sold on digital asset exchanges and directly to individual investors. 
Stuart Alderoty, Ripple's Chief Legal Officer, tweeted about the ruling saying, "as a matter of law – XRP is not a security. Also a matter of law – sales on exchanges are not securities." 
A huge win today – as a matter of law – XRP is not a security. Also a matter of law – sales on exchanges are not securities. Sales by executives are not securities. Other XRP distributions – to developers, to charities, to employees are not securities.

— Stuart Alderoty (@s_alderoty) July 13, 2023
XRP Soars
On the day of the ruling, the XRP token saw a significant price increase of 96%. According to CoinMarketCap, XRP reached a peak of $0.8714, an all-time high since March 2022.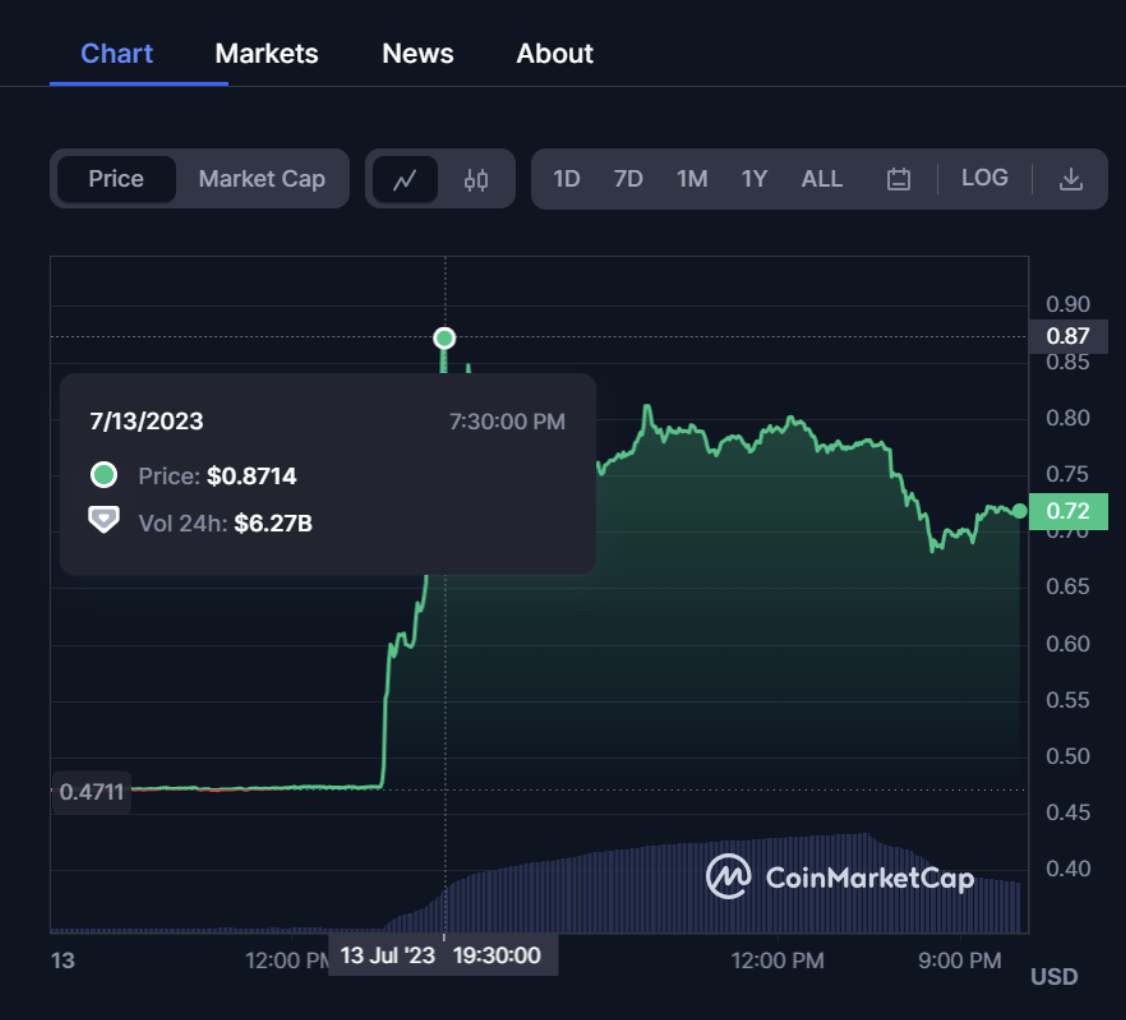 The wider crypto market also felt the ripple effect (pun intended). Coingecko data revealed that within 24 hours after the ruling, the crypto market cap surged by 5.7% .
What's Next For Ripple and XRP
Despite the partial victory, Ripple is not out of the woods yet. 
The SEC also left the court  that day with a win withJudge Torres ruling that "XRP qualifies as a security when sold to institutional investors and that it satisfies the criteria outlined in the Howey Test".
In the last seven days, however, XRP has experienced a slight decline from its $0.87 peak to its current trading price of $0.8401.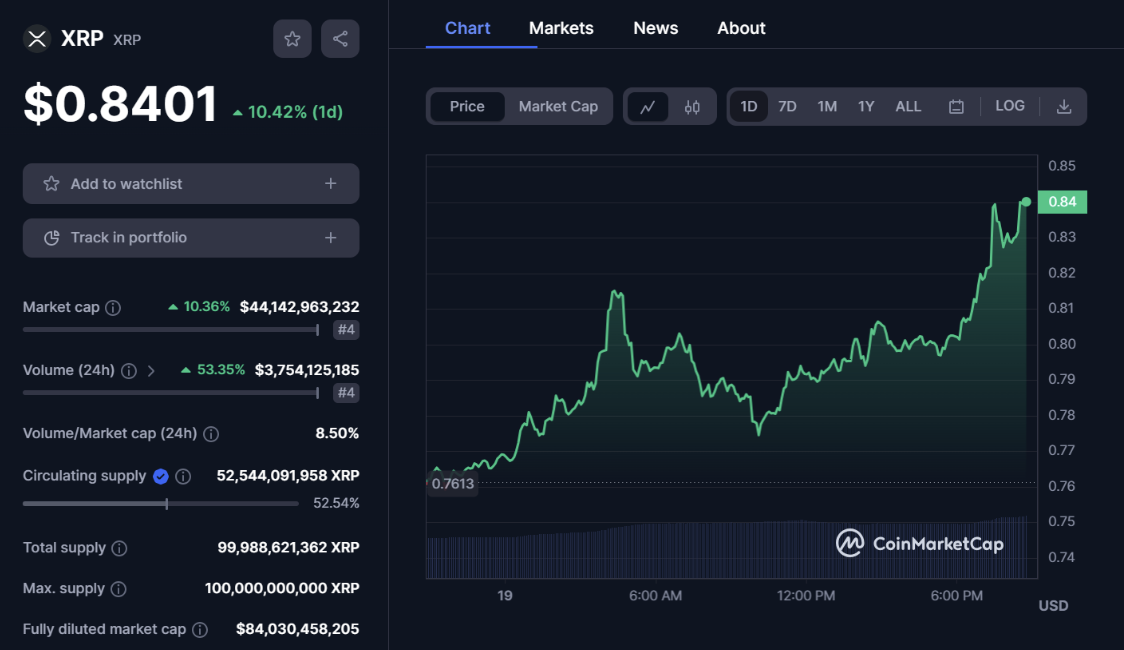 However, during this period, the token's 24-hour trading volume has seen a notable increase of 53.35%, and its market cap has reached $44 billion.
In a scenario where the market continues to display a bullish trend, XRP could potentially end the year at $2. Although, this strongly depends on where Ripple's legal battle with the SEC goes from here.
Will the SEC Attempt to Appeal?
Because of the ambiguous nature of the ruling, the full regulatory status of XRP is still unknown. This also leaves a possibility that the SEC  will appeal the verdict, consequently prolonging the legal battle and introducing further uncertainty. 
This possibility of the SEC appealing the decision might have dented XRP's momentum in recent days. Some stakeholders predict that the regulatory body will follow this course of action, while others have ruled it out.
In a recent interview with Blomberg, Ripple's CEO, Brad Garlinghouse, explained that the SEC would have to wait for a period of one to two years before being able to file an appeal.
Jeremy Hogan, a pro-Bitcoin lawyer, also agrees with Garlinghouse's view. Hogan highlighted that the SEC is unlikely to appeal because it would face greater risk than reward if it were to pursue an appeal. Hogan stated: 
"Plus, Ripple won. And only losers appeal."
Second, the SEC has more to lose than gain by appealing.

If it wins the appeal, it pulls back some adverse trial-level case.

But if it LOSES at the appellate level, now every Court in the 2nd DCA MUST follow the decision.

They could literally turn a mole-hill into a mountain.

— Jeremy Hogan (@attorneyjeremy1) July 17, 2023
Preston Byrne, a partner at Brown Rudnick, tweeted that the Ripple summary judgement is undoubtedly not the final word on the matter, even if Ripple Labs accepts the partial victory. 
Byrne questioned how a product can be considered a security in one transaction but not in another, stating that the ruling raises more questions than it answers. Byrne, however, expressed hope that Congress will intervene and provide clarity in the near future.
SEC should settle. Ripple somewhat justified in thinking it has a little wind at its back, as will some of the exchanges currently in litigation with the SEC for listing tokens like XRP. But the decision is too preliminary IMO to rely on for long term business planning.

— Preston Byrne (@prestonjbyrne) July 13, 2023
Could the Ripple Ruling Lead to More Wins for Crypto? 
The cryptocurrency community, including exchanges, cheered the Ripple ruling, as it is expected to bring greater regulatory clarity. Especially in the face of the SEC's relentless enforcement drive in the crypto industry. Several prominent crypto companies operating in the US, including Binance and Coinbase, are all facing one battle or more with the securities regulator concerning their operations. 
Coinbase, in particular, has been in a tug-of-war with the regulator since late last year. The exchanges between both institutions culminated in a lawsuit against the crypto company by the SEC in June 2023. The securities regulator accused Coinbase of operating as an unregistered exchange and conducting illegal securities sales, the same as it claimed Ripple did.
The ruling in the Ripple case has bolstered Coinbase's arguments against the SEC. Paul Grewal, chief legal officer at Coinbase, explained in a recent interview with CNBC that there is no doubt that this decision destroys the notion that securities are being traded when people use exchanges to trade assets. 
Coinbase's optimism is partially based on its ruling that if XRP is not labelled as a security, many other digital currencies will not be governed by security regulations as well. According to Grewal, the assumption that the securities rules do not apply in every situation and in every transaction would be a mistake.
 Grewal added:
"I think we will win. Now, I thought we would win before this decision. We think this decision has only further strengthened the case…. I think all investors, institutional and retail, can take great comfort from the fact that, when it comes to exchange trading, where there is arm's length dealing, the court has made it very clear, these tokens are not being traded as securities." 
What's Next for Crypto Regulation in the US?
The ruling in the Ripple case could have significant implications for other cryptocurrencies and the overall regulatory landscape. Firstly, the ruling sets a precedent for how cryptocurrencies may be classified as financial instruments.
In an interview with Bloomberg TV on July 17, 2023, Caroline Pham, a commissioner of the US Commodities Futures Trading Commission (CFTC), asserted that such court rulings regarding the classification of crypto assets would play a crucial role in shaping a clearer regulatory landscape and fostering greater certainty within the industry.
However, some believe that the ruling might not lead to the desired transformation in the SEC's approach toward the crypto industry.

According to Joe Castelluccio, head of Mayer Brown's Fintech group, the SEC will likely leverage the favourable aspects of the court decision to support its ongoing stance on considering coins and tokens as securities.
Finally, the far-reaching consequences of this ruling could lead to potential shifts in industry practices and business models as many cryptocurrency companies and projects would reevaluate their compliance practices and seek legal clarity on their regulatory status.
The  Ripple ruling might have paved the way for a new era in the regulatory process for cryptocurrencies in the US, establishing a precedent that could help provide guidance and clarity for other regulatory bodies and jurisdictions grappling with similar issues. 
Disclaimer: This piece is intended solely for informational purposes and should not be considered trading or investment advice. Nothing herein should be construed as financial, legal, or tax advice. Trading or investing in cryptocurrencies carries a considerable risk of financial loss. Always conduct due diligence.
If you would like to read more market analysis articles like this, visit DeFi Planet and follow us on Twitter, LinkedIn, Facebook, Instagram and CoinMarketCap Community.
"Take control of your crypto portfolio with MARKETS PRO, DeFi Planet's suite of analytics tools."