Last updated on August 3rd, 2023 at 02:07 pm
Worldcoin (WLD), the cryptocurrency associated with the Worldcoin project, experienced a significant surge in value upon its launch on July 24, 2023. The cryptocurrency reached an average price of $3.31 on the same day.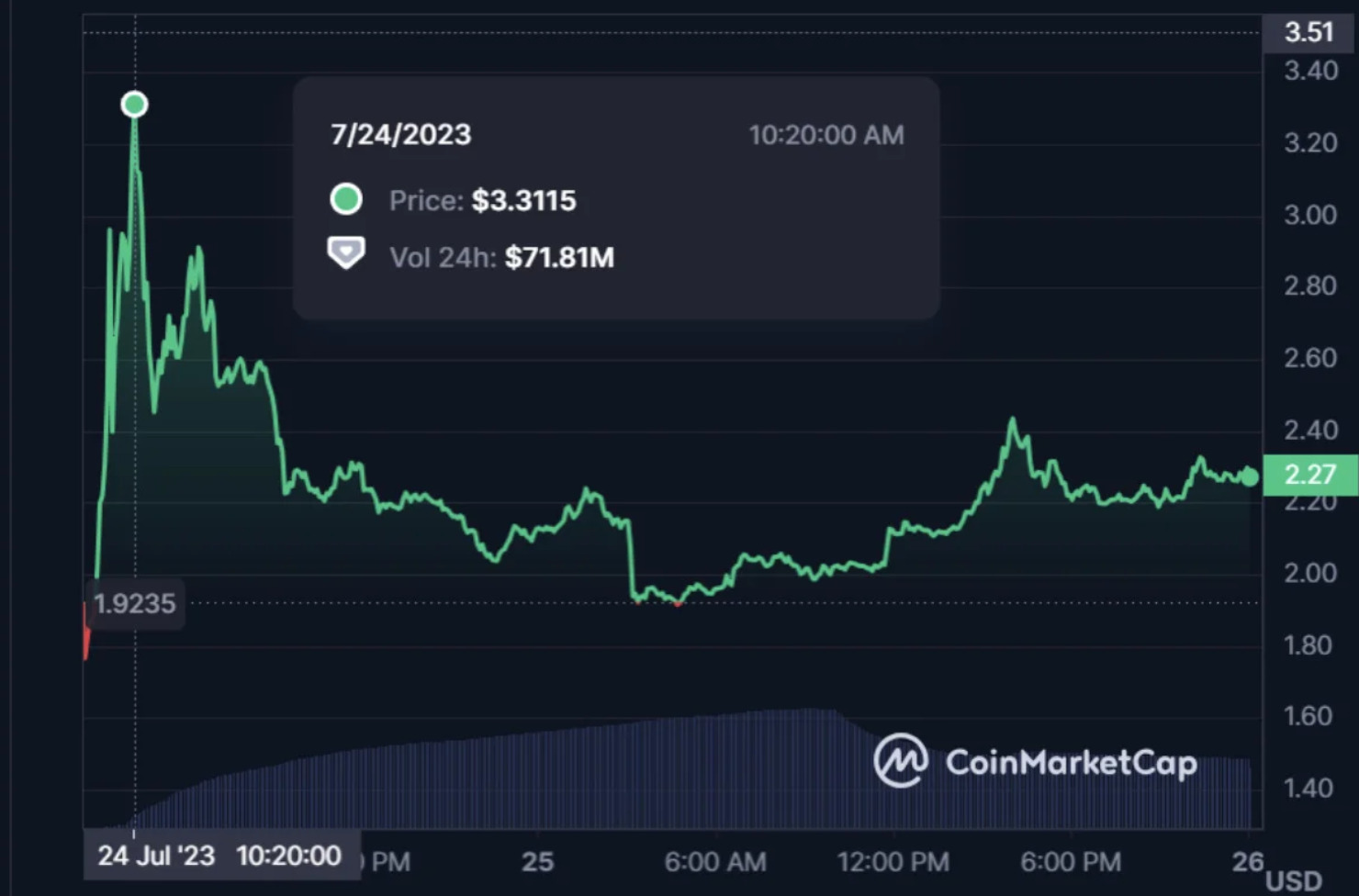 However, the initial excitement was short-lived, as the token's gains were swiftly wiped out after the crypto community and the general public expressed concerns about the project's utility and methods. 
The WLD token is currently trading at $2.20, with a decreased 24-hour trading volume of 19.79% and a market capitalization of $241 million as of the time of writing. Consequently, it becomes intriguing to observe if WLD can surpass its existing resistance level of $2.35.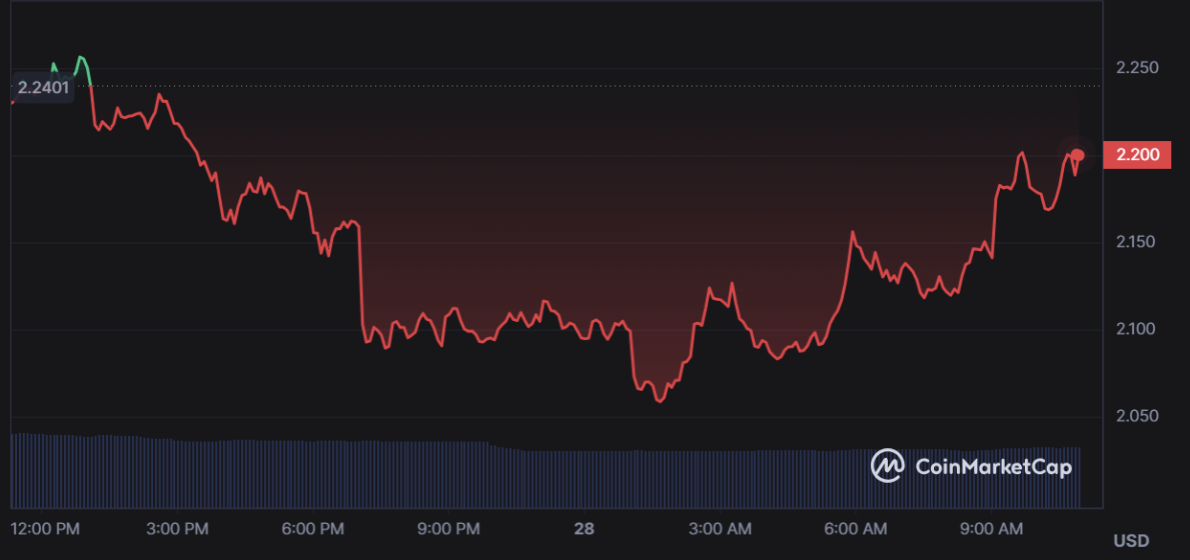 The Worldcoin project has the lofty goal of providing a universal digital identity to the approximately 4.4 billion people worldwide who do not have one. To accomplish its mission, the project intends to use privacy-preserving, decentralized, open-source solutions. However, this appears to be the primary source of its issues. Some experts have expressed concern about potential privacy threats due to its use of biometrics such as iris scanning.
Privacy Concerns Surrounding Iris-Scanning Biometrics
The Worldcoin project uses a hardware device called an "Orb" to authenticate individuals by scanning their irises and confirming their human identity. The project's team claims that this verification method will play a crucial role in the emerging digital economy, where artificial intelligence (AI) has become deeply integrated into society. They noted that the method provides a sure-proof way to verify identities online. 
In the words of Alex Bania, the co-founder of the project, 
"In the age of AI, the need for proof of personhood is no longer a topic of serious debate; instead, the critical question is whether or not the proof of personhood solutions we have can be privacy-first, decentralized, and maximally inclusive."
Once users are verified through the Orb, they are assigned a "World ID," which they can use to claim WLD tokens on the project's app, wherever regulations permit.
Chris Blec, a prominent privacy advocate and tech decentralization activist, has, however, expressed concerns about the privacy implications of using eye scans. 
In his July 24 tweet, Blec criticized Worldcoin, stating that the company seems to be taking advantage of the general public's lack of critical thinking by encouraging them to exchange their retina scans "for a few dollars worth of absolute shitcoin."
Vitalik Buterin, the Ethereum co-founder, also raised concerns about the use of iris-scanning technology. His worry is centered around the unintentional collection of personal information, including gender, ethnicity, and medical conditions, which could compromise individual privacy.
In a blog post titled "What do I think about biometric proof of personhood?," Buterin highlighted four major concerns with the Worldcoin project: Privacy, Accessibility, Centralization, and Security risks.
Though Buterin holds the shared conviction that as artificial intelligence (AI) progresses, the distinction between humans and machines will gradually blur and pose considerable challenges in their differentiation, he noted that the Worldcoin project's approach is problematic. 
Unclear Tokenomics and Distribution Model
Worldcoin's iris-scanning orbs are not the only contentious issue causing waves in the crypto community. Its somewhat obscure token distribution model is also a subject of concern.
During its launch, the project team stated that 143 million tokens were issued. Notably, out of these tokens, 100 million WLD were set aside for market markers, while the remaining tokens were distributed to investors who verified their identity by scanning their iris as part of Worldcoin's pre-launch phase. The project team did not provide more information about how these 100 million tokens would be distributed to the "market markers."
Senior analyst Dylan LeClair pointed out resemblances between WLD distribution model and some failed projects in the past. LeClair's was particularly concerned about WLD's circulating supply and supply cap.
LeClair stated in the tweet:
"Worldcoin taking a page out of SBF Solana eco playbook, launching and pumping a microcap shitcoin with 1% of total supply in circulation. $22.8 billion fully diluted market cap. lmao."
"you dont understand they're saving tokens for 8 billion people to scan their eyeballs"

how altruistic of them pic.twitter.com/puhvPxLkOX

— Dylan LeClair 🟠 (@DylanLeClair_) July 24, 2023
While commenting on a video in which Worldcoin's executives declined to address token distribution, John E. Deaton, a lawyer, asked if the executives' refusal to provide information about how to acquire the token or its nature was due to fear of potential lawsuits, or if it reflected a "lack of intelligence."
Deaton, however, tweeted a warning to his followers;
"If there was ever a signal to RUN AWAY as fast as you can from a project, HERE IT IS."
Wtf did this dude just say? Did he literally say that he can't talk about how WorldCoin is distributed "because of the regulatory uncertainty" in the United States? 🤦‍♂️

If there was ever a signal to RUN AWAY as fast as you can from a project, HERE IT IS. Is he saying he can't… https://t.co/e2f7V7pxTa

— John E Deaton (@JohnEDeaton1) July 24, 2023
UK's ICO to Scrutinize Worldcoin
Worldcoin also is expected to face heightened scrutiny from regulatory bodies worldwide, especially because of the aspect of data collection from its users. 
Notably, the Information Commissioner's Office (ICO), UK's data regulator, is reportedly preparing to investigate the project's operations. An ICO spokesperson acknowledged that the regulator is aware of the project's launch in the country, but it will conduct a comprehensive assessment and additional research to ensure Worldcoin adheres to the country's data protection regulations. 
In Conclusion,
Despite some concerns surrounding the token's price stability and long-term value, major cryptocurrency exchanges such as Binance, Bybit, Huobi, OKX, Gate.io, and KuCoin have listed Worldcoin. Also, according to data from CoinMarketCap, the current 24-hour trading volumes for Worldcoin exceed $200 million.
Given the general community's scepticism towards the project, the token's continuous growth might be hindered. However, if Worldcoin manages to gain trust among the masses, there is a strong possibility of its value soaring, and WLD could potentially reach $4 in the coming months.
Disclaimer: This piece is intended solely for informational purposes and should not be considered trading or investment advice. Nothing herein should be construed as financial, legal, or tax advice. Trading or investing in cryptocurrencies carries a considerable risk of financial loss. Always conduct due diligence.
If you would like to read more market analysis articles like this, visit DeFi Planet and follow us on Twitter, LinkedIn, Facebook, Instagram, and CoinMarketCap Community.
"Take control of your crypto portfolio with MARKETS PRO, DeFi Planet's suite of analytics tools."