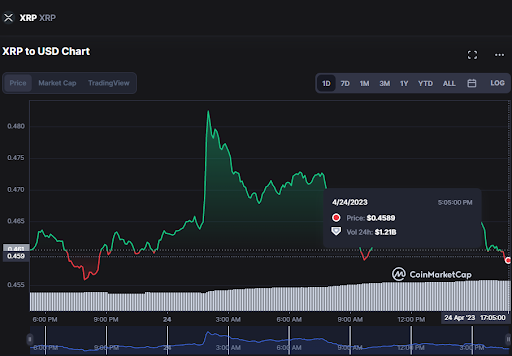 In the past few days, the price of XRP, Ripple's native token, has experienced significant fluctuations, much like other cryptocurrencies. In the last 24 hours, XRP has dropped by 2% and is currently trading at $0.4589. This decline is part of a broader market correction that affected several cryptocurrencies last week, resulting in a 24-hour trading volume of 63.73%.
Despite this recent drop, XRP has seen an overall increase of 8% over the past 30 days and a substantial 35% rise since the beginning of 2023. However, it is important to note that XRP's price fell by 11% in just one week.
The recent sharp decline in XRP's value can be attributed to several factors, including inadequate trading volumes within the broader cryptocurrency market and increased regulatory pressures.
The regulatory environment surrounding cryptocurrencies has led to uncertainty and scepticism among investors, leading to decreased trading volumes across the market. This trend has been evident on Binance, the world's largest cryptocurrency exchange, where trading volumes have declined alongside bearish market conditions. Therefore, the recent dip in XRP's value can be seen as a reflection of the overall market conditions within the cryptocurrency space.
Last Friday, the token experienced a decline to its seven-day low of $0.44. However, it has since rebounded by 4% and regained momentum. This upward trend could potentially push the coin to retake the $0.50 level sometime this week or next.
Can XRP Hit the Crucial $0.50 Mark This Week?
Investors are speculating whether the XRP will hit the critical $0.50 mark this week. A word of caution, however, is in order. Whale Alerts, a blockchain analytics firm, reported that major investors are transferring XRP to exchanges, implying that further price declines may be on the horizon.
🚨 28,000,000 #XRP (12,909,327 USD) transferred from unknown wallet to #Bitstamphttps://t.co/I8Iem0U3xb

— Whale Alert (@whale_alert) April 23, 2023
XRP has breached multiple significant support levels recently, and there is potential for the coin to fall further from its current price of $0.45. However, the 30-day average suggests a positive trend that may help XRP recover from its recent dip.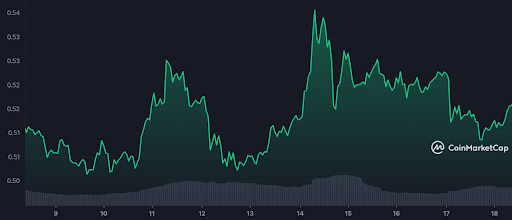 The outcome of the Ripple-SEC case, which is expected to conclude in the coming weeks, could also have a significant impact on XRP's future value. If a favourable settlement or summary judgement is passed for Ripple, XRP could see a surge in value, potentially bringing it closer to the coveted $0.50 mark.
Expert Analysis: Investor and Analyst Perspectives on the Ripple-SEC Legal Battle
A pro-XRP lawyer, John E. Deaton, predicted that the Ripple-SEC case may end soon, with a projected timeline of May 6, 2023, as all significant evidence has been presented. This development would significantly impact the market, and investors are closely monitoring the outcome and anticipating potential market fluctuations in the near future.
Experts examining the case have concluded that Ripple has a high probability of prevailing. Attorney Jeremy Hogan has argued that the SEC has failed to substantiate a significant aspect of its case, namely, that XRP purchasers entered into an investment agreement with Ripple. The SEC has relied solely on the purchase agreement, which is insufficient, and has failed to demonstrate the existence of an implied or explicit investment agreement. This argument "tears the investment from the contract," according to Hogan.
SEC 🆚 Ripple

Summary Judgment decision by May 6th👀#crypto #fintech $XRP pic.twitter.com/O0Isjo0dK2

— XRP_Cro 🛸 (@stedas) April 11, 2023
Deaton also suggested that the SEC's case is weak and likely to result in a loss. According to his analysis, the SEC has not followed the law in the Ripple case. He noted that in prior litigation cases, the LBRY case, the Grayscale case, and the Voyager case, the judge had criticized the regulatory body on their lack of clarity in their arguments. 
As noted earlier, a favourable outcome for Ripple could lead to a surge in XRP's value, potentially triggering one of the most significant rallies in its history. XRP's market value will probably rebound to $1 or even higher in the weeks after the case's conclusion, fueled by a more extensive bull market that could drive it beyond its previous all-time high of $3.40.
However, the SEC winning the case could adversely impact XRP, its investors, and the cryptocurrency sector as a whole. The regulatory body has the authority to fine Ripple Labs and require the registration of XRP as a security. This verdict would inevitably lead to XRP being treated as a traditional security, limiting its adoption and usage.
In summary, the Ripple-SEC case has significant implications for the cryptocurrency market, and the outcome could impact XRP's value and its future adoption and usage. 
Performance Updates on Bitcoin (BTC) and Ethereum (ETH)
At press time, Bitcoin (BTC) is trading at $27,329, with a 24-hour trading volume of 37.42%. Although BTC reached a new yearly high earlier this month, climbing to $30,000, it suffered a setback on April 17, 2023, and its value dropped to $29,000. This caused the resistance level for BTC to revert to $30,000.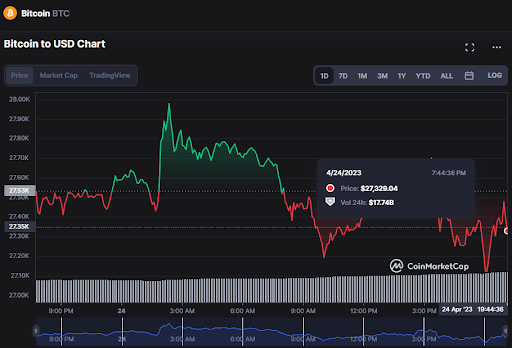 Meanwhile, Ethereum (ETH) currently trades at $1831.13 with a 24-hour trading volume of 33.55%. ETH hit a new yearly high of $2000 on April 13, 2023, following the Shanghai upgrade. However, the price of ETH fell below $2000 on April 19, causing the resistance level to return to $2000.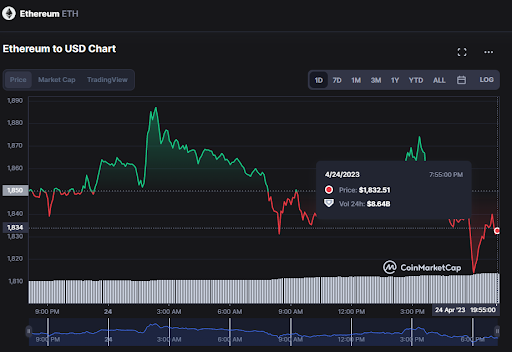 The market remains volatile due to regulatory pressures altering its growth trajectory, despite a slight recovery in the interim. Despite these challenges, the overall market outlook for BTC and ETH remains positive.
Disclaimer: This piece is intended solely for informational purposes and should not be considered trading or investment advice. Nothing herein should be construed as financial, legal, or tax advice. Trading or investing in cryptocurrencies carries a considerable risk of financial loss. Always conduct due diligence.
If you would like to read more market analysis articles like this, visit DeFi Planet and follow us on Twitter, LinkedIn, Facebook, Instagram and CoinMarketCap Community.
"Take control of your crypto portfolio with MARKETS PRO, DeFi Planet's suite of analytics tools."