Last updated on April 13th, 2023 at 10:41 am
The global AI market is projected to reach a $191 billion valuation by 2024. However, this revenue is likely to be dominated by major technology companies, which poses risks such as algorithmic bias and limited opportunities for smaller developers to market their technologies.
Artificial Intelligence (AI) is becoming increasingly important in our daily lives. Thus, it is crucial to promote inclusivity and fairness in how these technologies are deployed. One way to do that is to decentralize the control and distribution of AI technologies.

SingularityNet is a project working towards this goal by creating a decentralized, secure, and accessible AI network. The project focuses on enabling global AI distribution and providing an AI-as-a-Service marketplace. 
SingularityNet aims to be the decade's best-performing asset and to create the most beneficial technological ecosystem in an AI-powered world.
This article extensively explores the SingularityNet project, examining how it works, its token, and its potential impact on developments in the AI sector.
What is SingularityNET?
SingularityNET is a full-stack, decentralized Artificial Intelligence (AI) network with an AI-as-a-Service (AaaS) marketplace. 
Despite a general lack of nuanced understanding, legitimate applications for AI and cryptocurrency are expanding exponentially. Chatbots, for example, are expected to potentially handle 85% of customer support interactions. Juniper Research estimated that 2.5 billion voice assistants were in use as at the end of 2018.
The SingularityNET project stands out for its integration of two revolutionary technologies with the potential to shape the future: blockchain and AI. The project's objective is to establish a decentralized and seamless infrastructure for accessing AI services.

In 2019, the project's developers expanded their partnerships, signing agreements with the fast food giant Domino's Pizza, Inc. and Chinese insurance and asset management firm Ping An to help streamline operations in Malaysia and Singapore.
These high-profile collaborations aided the project's ascension to the top 100 cryptocurrency projects. In mid-2019, SingularityNET launched an accelerator called X-Lab Blockchain AI. The project aims to advance AI development and implementation.
This blockchain-based AI company is not without competition. Its direct competitors, including EOS-based Effect AI (EFX) and DBC (Deep BrainChain are also exciting projects to watch out for.
How Does SingularityNET Work?
SingularityNET is a project that combines various components to develop a blockchain network that supports the development of Artificial Intelligence (AI) services. The following elements form the basis of the project:
It is the adapter through which a service can communicate with the SingularityNET platform. It is a proxy deployed process attached to the main application (in this case, AI) to achieve the abstraction of architectural concerns such as registration and configuration, interaction with smart contracts, and using the Ethereum blockchain. The Daemon interacts with the multiparty escrow contract to authorize payments and is responsible for payments and application translation.
It is an Ethereum blockchain ERC-165-compliant smart contract that stores services, organizations, and type repositories. AI developers use it to advertise the specifics of their services, and consumers use it to find the services they require. When a user requests a service from the Marketplace dApp (i.e., Decentralized Application), the dApp retrieves the service information from the Registry. The Registry supports service and type tagging to facilitate searching and filtering.
SingularityNET Marketplace
It is a dApp that serves as a gateway to discovering and using AI services in SingularityNET. The dApp reads data from the blockchain registry and matches it with the chain's metadata, enabling other services such as integrating SingularityNET's curation service. It allows other AI services to display custom UI components and enables consumers to rate the services they have used.
What is AGIX Token?
The AGIX token is a utility token that serves as the native currency of the SingularityNET platform. It was created as a result of a hard fork of the AGI token to make it compatible with the Cardano cross-chain.
The AGIX token has been designed to support the core functionalities of SingularityNET, which include:
Transactional:

It enables AI agents to communicate with one another and with external protocols.

Settlements: 

It makes paying for AI services in the AI Marketplace easier.

Incentives:

AGIX token holders are rewarded for securing the platform through staking.

Governance:

The token enables democratic funding of network operations through token holders voting.
AGIX's maximum supply is 2 billion and is listed on several exchanges, such as:
PTPWallet is a popular platform that allows you to store AGIX tokens and other cryptocurrencies. Its user-friendly interface makes navigating the system easy, and it acts as both an exchange and a search engine for other cryptocurrencies.
Objectives of SingularityNET
SingularityNET's primary objective is to create a decentralized network of Artificial Intelligence (AI) services, introducing the new concept of "AI-as-a-Service (AIaaS)." The aim is to establish a regulated and accessible AI market built on the Ethereum network and implement the system's decentralized logic using smart contracts. 
The SingularityNET tools strive to minimize blockchain interactions by providing access to network resources through multiparty escrow contracts and unidirectional atomic channels meant for payments. The ecosystem's Daemon, CLI (Command Line Interface), and SDK (Software Developer Kit) serve this purpose.

In other words, the entire system aims to make network usage more cost-effective while not overburdening the Ethereum system. 
The Ethereum network provides tools for facilitating the integration of decentralized systems, allowing SingularityNET to achieve greater abstraction with a single flexible tool. This, in turn, enables the network to provide distribution, robustness, scalability, and management capabilities.
What Makes SingularityNET Unique?
SingularityNET is a unique platform that simplifies the process of buying and selling AI tools, libraries, and solutions. It is the first of its kind and provides developers and buyers with a comprehensive and easy-to-use platform.
Buyers can test AI technology to ensure it meets their needs, and if they cannot find the specific tool they require, they can request an AI Portal from the vast SingularityNET community. This allows clients (or buyers) to commission the creation of a new AI tool to meet their needs efficiently.
SingularityNET also offers a range of tools and services for developers to develop and deploy AI applications. Developers can construct and train AI models using a variety of open-source machine learning frameworks such as Keras, TensorFlow, and PyTorch. They also have access to pre-trained models that they can combine with other models to create more sophisticated systems.
Developers can easily combine their own AI modules with those produced by other developers on the network because of SingularityNET's high degree of modularity and interoperability. As a result, more advanced AI systems can be created without a lot of coordination or collaboration, using the skills of multiple developers.
In addition, SingularityNET promotes user cooperation and knowledge exchange, which supports the growth of an active community of AI developers and enthusiasts. It adheres to open-source ideals, making all of its materials and code freely accessible to the public. This makes it easier for developers to begin working on AI projects and to study the work of others.
The Fourth Industrial Revolution is Underway
The first, second, and third industrial revolutions were propelled by steam power, electricity, and digital technology respectively. Humanity has made significant progress since the first industrial revolution. The pace, scope, and impact of technological advancements are reaching unprecedented levels.
We are currently in the midst of the fourth industrial revolution, and it is driven by artificial intelligence (AI). AI enables humanity to leverage technological advancements in other fields, such as genetic engineering, robotics, decentralized finance (DeFi), the Internet of Things (IoT), and blockchain. From now on, how we operate and conduct business will be strongly influenced by how AI is integrated with new and existing technologies.
So Are the Machines Taking Over?
Not at all; we're still a long way from there. Artificial intelligence research projects still have difficulty accessing large data sets to improve their machine-learning solutions. 
The true and immediate value of a project like SingularityNET is this: a decentralized system for collecting global data with methods for analyzing it in a secure, anonymous manner.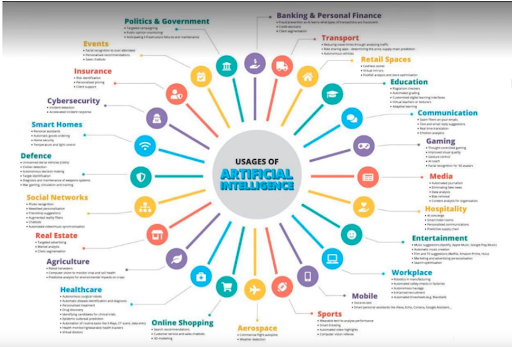 Disclaimer: This article is intended solely for informational purposes and should not be considered trading or investment advice. Nothing herein should be construed as financial, legal, or tax advice. Trading or investing in cryptocurrencies carries a considerable risk of financial loss. Always conduct due diligence.
If you would like to read more articles like this, visit DeFi Planet and follow us on Twitter, LinkedIn, Facebook, and Instagram, and CoinMarketCap Community.
"Take control of your crypto portfolio with MARKETS PRO, DeFi Planet's suite of analytics tools."