Last updated on March 30th, 2023 at 03:31 am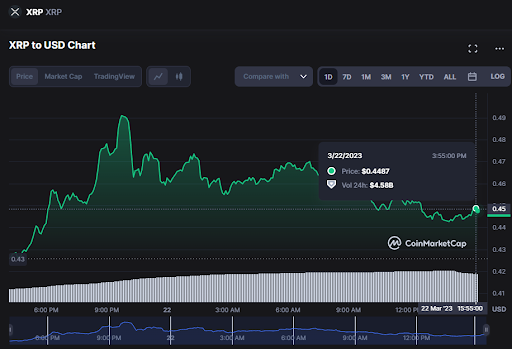 Ripple (XRP) is currently trading at $0.4487, indicating a 5% increase over the past 24 hours, amidst a 2% surge in the overall market. However, XRP experienced a decline of 2% in the last week and 1% over the last 30 days, although it has gained 9.5% since the beginning of this year.
Last week, RippleLabs, the token's developer, acknowledged that it had some exposure to Silicon Valley Bank, which was closed by California financial regulators on March 10. CEO Brad Garlinghouse assured its customers that Ripple was still in a strong financial position and that regular operations would not be disrupted. He, however, did not disclose the amount of funds the company had in SVB.
Setting the record straight on SVB Qs:

Ripple had some exposure to SVB – it was a banking partner, and held some of our cash balance. Fortunately, we expect NO disruption to our day-to-day business, and already held a majority of our USD w/ a broader network of bank partners.

— Brad Garlinghouse (@bgarlinghouse) March 12, 2023
A joint statement by the Federal Reserve, US Treasury, and FDIC stated that customers of SVB will be able to fully access their funds from Monday, March 13, 2023. The cryptocurrency market had a glimpse of recovery on Sunday as a result of this statement, and XRP hasn't dropped any worse since. In fact, its value has risen steadily.
The price of XRP has surged up to $0.4487 in the past 24 hours, marking a 7% rise from Monday's price. Although Tuesday's market-wide rise has somewhat slowed in recent hours, the coin has managed to hold steady at its $0.44 support level. If XRP can maintain this level of support, it will create a strong foundation for further growth in the days and weeks ahead.
Can XRP Reach $1?
Market Experts and Investors Share Their Outlook on XRP Price Forecast
Digital Coin Price

thinks that XRP will maintain a price above $1 for the foreseeable future and anticipates a 240% increase in XRP coin prices over the next two years. 

GOV Capital

expects a more significant upward trend for XRP coins, projecting that it will reach $1.04 within a year. Additionally, they foresee the price of XRP coins increasing by almost 164% within the same period. This outcome is achievable if there is a new market surge and positive developments from the Ripple Labs team.

Metadrop

stated

in a YouTube video that while XRP has remained largely stable over the past few months, there have been some fluctuations in its price in recent weeks. Metadrop also pointed out that XRP's partnership with Standard Chartered Bank and Santander could be significant factors in the digital asset's potential to reach the $1 mark, as it may lead to increased adoption and demand for XRP, which could ultimately drive up its price.
    XRP Price Prediction as Bulls Hold $0.37 Level – Can XRP Reach $1 Soon?
The Wallet Investor holds a pessimistic view regarding the price movement of XRP.

Wallet Investor's

one-year XRP estimate predicts a decrease in the value of this asset. However, they are optimistic about the short-term price of XRP.

According to

Coinpedia

, the likelihood of XRP reaching a new high by the end of 2023 is still considered based on the projected sequence of events. The XRP price could reach a new high and potentially close in on its target of $1.1043. However, if the XRP lawsuit has no impact, normal market forces are expected to prevent the price from dropping below $0.8486. On the other hand, if the SEC continues to pursue the case or a ruling goes against XRP, Coinpedia estimates that the altcoin will ultimately trade at $0.5850 by the end of 2023. 
Even though XRP seems undervalued and might present a good buying opportunity, its potential for a significant rebound may not show up until the ongoing legal dispute is resolved.
There is a high probability that Ripple will receive a positive outcome or settlement, and this belief is supported by several previous decisions and rulings in its favour. Additionally, one of the SEC's most essential expert witnesses was excluded from the case. Ripple was granted access to crucial SEC correspondence in addition to the company's authority to raise the fair notice defence.
If the market continues to recover, it's possible that the coin will reach $1 during the second half of this year and potentially climb even further in 2024.
Price Analysis for Cryptocurrencies Including BTC, AGIX, ETH, and ADA
On March 22,

Bitcoin

(BTC) climbed to a new yearly high but produced a lengthy upper wick. BTC is currently trading for $28,678.76. The next resistance would be at $30,000 if the rise continues. On the other hand, closing below the support level of $28,000 might cause a decline toward $24,000.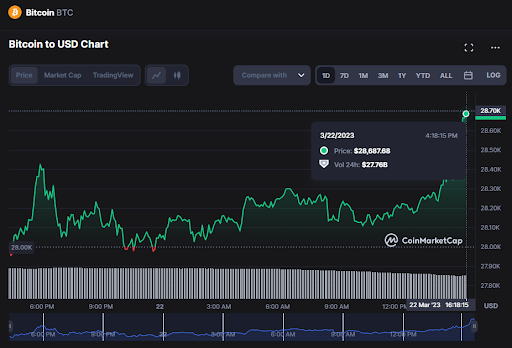 As of March 22,

SingularityNET

(AGIX) surpassed a descending resistance line and is currently approaching its yearly high of $0.67. Currently, AGIX is trading for $0.5153 and has a 24 hour trading volume of $181 million.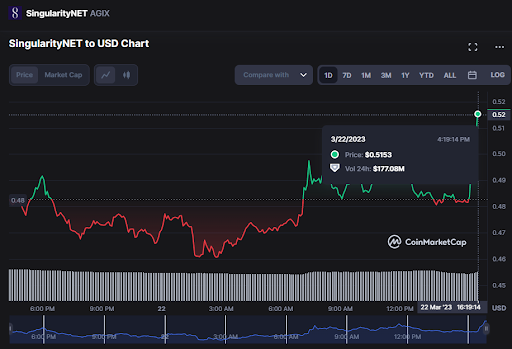 On March 22,

Ethereum

(ETH) surpassed the overhead resistance of $1,800  the next resistance would be $2000. ETH is currently trading at $1,819 and has a 24 hour trading volume of 9.57%.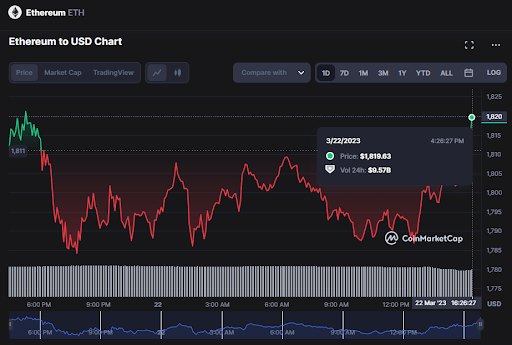 Cardano's ADA

surged and hit $0.38 on March 22, but the long wick on the day's candlestick implies that bears are selling during rallies. At the time of writing, ADA is trading at $0.3832 with a 24-hour trading volume of 140%.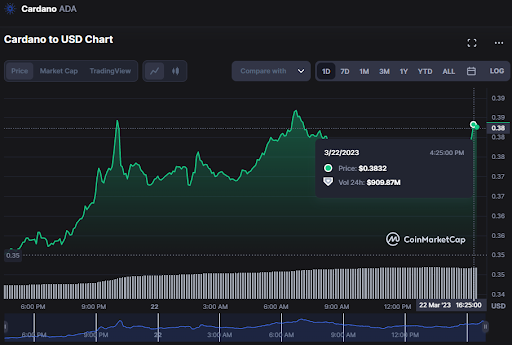 Disclaimer: This piece is intended solely for informational purposes and should not be considered trading or investment advice. Nothing herein should be construed as financial, legal, or tax advice. Trading or investing in cryptocurrencies carries a considerable risk of financial loss. Always conduct due diligence.
If you would like to read more market analysis like this, visit DeFi Planet and follow us on Twitter, LinkedIn, Facebook, Instagram and CoinMarketCap Community.
"Take control of your crypto portfolio with MARKETS PRO, DeFi Planet's suite of analytics tools."