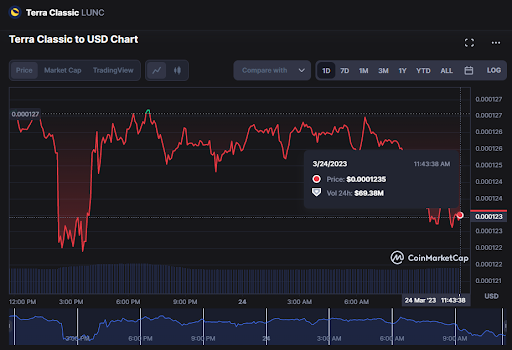 Following a 3.5% dip on March 22, Terra Luna Classic's (LUNC) price has made a partial rebound and is presently trading at $0.0001235, reflecting a 2% drop in the last 24 hours.

LUNC has gained 2.5% in the last week despite a 25% drop over the previous 30 days attributable to the current market volatility. This price decline was driven by the revelation of the SEC's impending legal action against Coinbase, which sparked a general price decline in the market.

Given the Terra Luna Classic community's continued efforts to improve its functionality and the present undervaluation of LUNC, a large price increase may be on the horizon for the token.
Is the LUNC Dip  a Chance to Buy?
According to current market trends, LUNC appears to be undervalued, and its value may remain stagnant until Terra Luna Classic undergoes significant development or its burn rate increases. Although newer cryptocurrencies and presale tokens show great potential, traders seeking short-term opportunities should consider the factors noted above when choosing their next digital asset.

As mentioned earlier, the market was rocked by news of the US SEC serving Coinbase a Wells notice. However, the announcement's impact on the market was not as severe as many had predicted, possibly due to the exchange's willingness to stand its ground and engage in a legal dispute.
1/ Today Coinbase received a Wells notice from the SEC focused on staking and asset listings. A Wells notice typically precedes an enforcement action.

— Brian Armstrong (@brian_armstrong) March 22, 2023
Due to this, the widespread price downturn has likely subsided, and LUNC may have the opportunity to increase in value in the upcoming days. With a significant increase in value possible once it surpasses the $0.000013 mark, things may be looking promising for LUNC holders.
Despite the approval of a proposal to re-peg the USTC stablecoin in February, which would have necessitated burning a considerable amount of LUNC, there has been no recent advancement in its implementation.

Furthermore, advocates for increased burning were unsuccessful in their proposal to raise the on-chain tax burn of LUNC from 0.2% to 0.8%, as the community opted to retain more LUNC to fund development initiatives.
More and more people are becoming willing to perceive such an outcome as an indication that it's time for the community to focus on enhancing the functionality of the Terra Luna Classic ecosystem and driving its adoption.
The total number of LUNC tokens burned has increased to 50 billion, a significant increase from the 36 billion burned just a few weeks ago.
With the LUNC price expected to gradually rise in the near and medium term, there is a realistic end-of-year target of $0.0003 or $0.0004. However, some LUNC supporters believe this is too modest, anticipating a surge to $0.10 or even $1 in the long term.
Those who haven't Sold $LUNC will be Millionaires when it hits $0.1 👀🚀🌕#lunc #ustc #btc #Binance #bnb #usdt #LuncArmy #LuncBurn #LUNCcommunity pic.twitter.com/eTU8JJJi6U

— Lunc_Maxi (8K beware of Imposter) (@Lunc_Maxi) March 20, 2023
In a recent blog post, Edward Kim, an Assistant Professor of Computer Science at Drexel University, shared some exciting news. He stated that his priority would be to develop machine learning-based applications that can be seamlessly integrated with Terra Luna Classic via Cosmos.

This is a significant development, as it indicates that serious efforts are being made to enhance the value proposition of LUNC beyond being just a quasi-meme token that solely focuses on burns.
Kim's commitment to this project is a testament to the fact that dedicated individuals are working tirelessly to make LUNC a compelling investment opportunity. With the integration of machine learning-based applications, LUNC can offer a wider range of use cases and can attract more investors to the ecosystem.
LUNC to Reach $1 – What Do Experts Think?

To trigger a price rally, LUNC must successfully overcome the $0.00014 resistance level which has repeatedly hindered the progress of LUNC in the past week.
If LUNC manages to establish a solid foothold above this price level, it would be a positive signal for investors and traders and could potentially pave the way for additional price surges in the coming weeks.
LUNC Price Forecast by Market Experts and Investors.
Outlook for BTC and ETH
Bitcoin (BTC) reached a new yearly high on March 22, 2023, creating a lengthy upper wick. Today March 24, 2023, BTC is trading at $28,035.05, with a 24-hour trading volume of 24%. If the upward momentum continues, the next obstacle to overcome would be $30,000. However, failing to maintain the support level of $28,000 could result in a decline toward $24,000.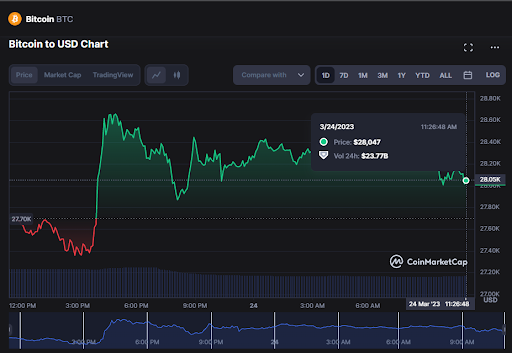 Ethereum (ETH)

exceeded the overhead resistance level of $1,800 on March 22, 2023; the subsequent resistance level is expected to be $2,000. However, on March 24, ETH dropped to $1,700 before recovering to its current trading price of $1,784. The 24-hour trading volume for ETH is currently at 8.31%.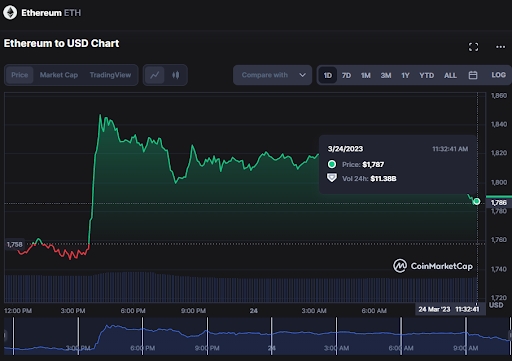 Disclaimer: This piece is intended solely for informational purposes and should not be considered trading or investment advice. Nothing herein should be construed as financial, legal, or tax advice. Trading or investing in cryptocurrencies carries a considerable risk of financial loss. Always conduct due diligence.
If you would like to read more market analysis like this, visit DeFi Planet and follow us on Twitter, LinkedIn, Facebook, Instagram and CoinMarketCap Community.
"Take control of your crypto portfolio with MARKETS PRO, DeFi Planet's suite of analytics tools."