Reacting to the collapse of FTX, the third-largest cryptocurrency exchange in the world, the crypto market took a downturn, with the majority of the tokens trading in the red. Stablecoins were not left out in the bloodbath; most stablecoins failed to maintain the 1:1 dollar peg, falling by 0.2% to 0.4%. Some did, however, recover their original pegs.  
USDD, Tron's algorithmic stablecoin, has failed to recover its peg. The token has been trading below the 1:1 dollar peg since the FTX crash. USDD, backed by TRX, is currently at its lowest since June 2022, according to CoinMarketCap. It serves as the Tron DAO's reserve currency. 
Users are concerned about the USDD stablecoin's failure to regain its 1:1 dollar peg.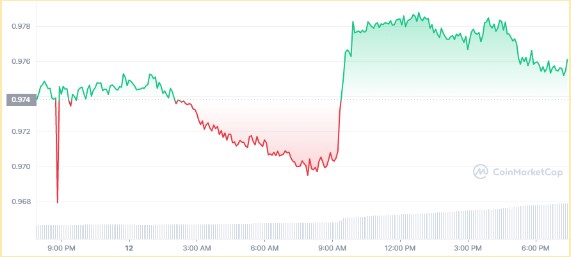 The cryptocurrency community on Twitter has expressed concern about USDD's delayed dollar peg recovery, hoping another crash similar to Terra-Luna's will not occur. 
Eloisa Marchesoni stated on Twitter that Alameda FTX's trading firm was one of the nine members of the DAO tasked with maintaining the peg for the algorithmic token. She also disclosed that a majority of other members are in bad shape, either sourcing for liquidity or laying off staff members. 
Justin Sun has announced his plans to pump more capital into the token. He also said the token has a collateral ratio of 200% and that assets worth $1.45 billion safeguard the token dollar peg. USDD is currently trading at $0.9774, with an increase of 0.76% in the past 24 hours, according to CoinMarketCap. 
If you would like to read more market analysis like this, visit DeFi Planet and follow us on Twitter, LinkedIn, Facebook, and Instagram.
"Take control of your crypto portfolio with MARKETS PRO, DeFi Planet's suite of analytics tools."