Solana, dubbed the "Ethereum killer," is slowly losing ground as its price has been unstable since the beginning of the year. 
According to data from Santiment, the value of $SOL has decreased by 73% over the past eight weeks. This has led to intense Fear, Uncertainty and Doubt (FUD) within the crypto community.
Solana experienced success last year during the cryptocurrency bull market, reaching an all-time high of $258.93 in November 2021. 
However, the recent bear season, which began in February, has negatively impacted all tokens, including Bitcoin and Ethereum, forcing investors to sell off their assets in an attempt to salvage their investments. Although the market is gradually recovering from the downturn, Solana has yet to see the same improvement. 
Asides from the crypto winter, the collapse of FTX, an American cryptocurrency exchange, drove $SOL price to the deep end. Sam Bankman-Fried, the former CEO of the now-bankrupt exchange, had been a vocal advocate for Solana and his influence within the crypto community contributed to the token's popularity and value.
However, recent revelations of price manipulation and asset manipulation at FTX and SBF trading firm Alameda have caused investors to doubt the viability of Solana.
According to data from Token Terminal, the number of active developers working on Solana has dropped by over 90% since the beginning of the year.
Solana is currently trading at $9.13, with a decrease of 3.64% in the past 24 hours, according to CoinMarketCap.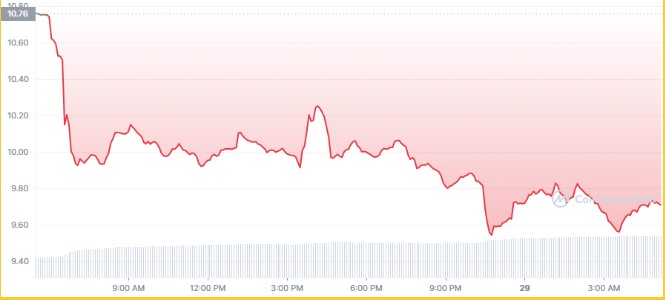 Despite this, Vitalik Buterin, a co-founder of Ethereum, has shown support for Solana in these trying times. 
He tweeted:
"Some smart people tell me there is an earnest smart developer community in Solana, and now that the awful opportunistic money people have been washed out, the chain has a bright future. Hard for me to tell from outside, but I hope the community gets its fair chance to thrive."
 If you would like to read more market analysis like this, visit DeFi Planet and follow us on Twitter, LinkedIn, Facebook, and Instagram.
"Take control of your crypto portfolio with MARKETS PRO, DeFi Planet's suite of analytics tools."