"Art is a statement, Art is beauty, Art is what defines culture and exhumes a story from pixels or even a stroke of the brush," my artist friend once said.
Art is one of the few things that most people find both beautiful and exciting. For centuries, art has been associated with a specific place or era from which it derived its meaning and relevance. And while its value has changed over the years, it has always been linked to an artist's reputation or ability to sell their work for high prices.
We now live in an age where innovative digital changes have been infused into the traditional norms everyone is accustomed to. The world of art is no exception.
However, prior to these advancements, the art gallery space was always relatively slow-paced, as its primary purpose was to preserve artworks rather than imbue them with a modern approach, such as Non-Fungible Tokens (NFTs) (see also DeFi Planet's section on NFTs for more information). 
You are about to discover how two worlds—the art world and the blockchain—have been mashed together. The resultant effects of this mash-up have stirred quite a debate. The topic: "Can digital art elicit the same level of aesthetic emotions as traditional art?" 
This debate has been going on for quite some time, with various opinions given by both sides of this argument. However, we are approaching this debate from a different perspective. 
In this article, we'll discuss the creative space in both worlds and provide additional context regarding the possibility of a symbiotic relationship that could benefit the art industry as a whole.
Why do traditional art galleries still exist in this burgeoning age of virtual art?
Many probably think art galleries are just storage for old culture, antiques, and aged exquisites. But it's more than that; for people with love for art and creativity, art galleries are more than just a structure that houses visual displays of creative pieces. 
Art galleries are a movement, a gathering of people from different backgrounds and cultures who appreciate the strokes of brushes on canvas, sculptures, and antique pieces that tell a story. Nothing beats staring at a painting and trying to visualize or deconstruct the artist's thoughts and mindset at the time the piece was created; led by the human yearning for meaning.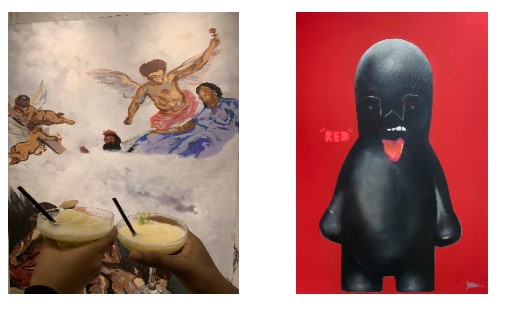 These galleries work to convey the artist's message so that the artist can do what he or she does best: "create." 
This message can be perceived in many ways because the artist's message is interpreted differently by different people, which makes art viewing interesting. 
These traditional art galleries breathe culture, nurture visual arts, promote work, and expose the public to the creative.
The thing about art is that simply looking at it is never enough. The interaction between your eyes and the displays speaks volumes, and ideas emerge as a result. 
Conflicting opinions about an artist's work in an art gallery create a more profound memory of the artwork.
What exactly do NFTs bring to the table?
The world of art is at an inflection point as we now have a new type of art market: NFTs (non-fungible tokens) are digital certificates that can be bought and sold on the blockchain.  One of the most popular uses of NFTs thus far has been in the area of art. It's more like "cryptocurrency meets fine art!" 
NFTs are a hot topic these days and for good reason. Art on the blockchain is disrupting practically every aspect of the industry. So what's so interesting about NFTs? 
It's not surprising that one of the most talked about aspects of this new space has to do with artwork—NFTs are often used to attest ownership of original works of art (for both physical and digital art). This is where opinions diverge between those already in the traditional art scene and newcomers who see an opportunity for themselves in this emerging market.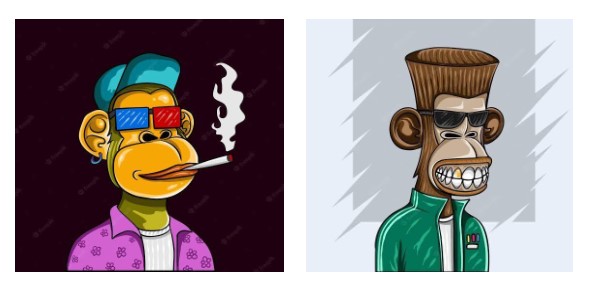 NFTs are bringing a new level of liquidity to art collections historically tied to wealthy and inherited collectors. They are also a way to value works of art traditionally believed to have only sentimental value, which can be good or bad depending on how you look at it. 
NFTs have been around since 2013 with the launch of CryptoKitties, but they've only recently gained popularity among serious collectors and investors who want an asset that will increase in value over time as more people buy into them (or other NFTs). 
Some people have always seen the NFT space as a bubble growing just to pop. Very little faith was put into this project during its early stages as people deemed it not worthy of their stint. However, the dynamic world of NFTs has evolved into a well-known and fully functional method of portraying art and creativity in a digital display. 
These digital assets are not far off from the already well-known creative art pieces we see in art galleries. Most people tend to see them alike, as it's seen as a space where innovative and obscure creative works can be published for the masses to engage with. 
This space allows for the trading of digital assets by bidding. An artist uploads his or her artwork to an NFT marketplace like Opensea. Interested buyers then bid on these works, and at the end of the bidding session, the bidder with the highest offer receives ownership of the NFT, granting that individual complete control.  
People often ask, "Why should I own or purchase an NFT when I can easily copy these works from wherever they're sold?" Well, ask yourself this: if Mark, the artist down the street, paints a replica of Leonardo da Vinci's Mona Lisa, detail for detail, does that make his art piece as priceless as the original? Of course not! 
Art is created to portray or convey a message, and the NFT space is expanding rapidly as more people are drawn to sharing their works on the internet to spread a message or make a profit. NFTs, like art galleries, protect and preserve originality.
You could say they are a better safe than art galleries, as these digital assets, unlike physical art pieces, are locked in a blockchain and only accessible by the owner, except when traded.  
NFTs have clearly gained public attention, indicating they are here to stay. Many art lovers fancy the idea of transitioning from that visual perspective of viewing art in front of you to owning one as a digital asset that is always "accessible" to you anytime, anywhere.  They also make for easier, more efficient trading in art.
Our Perspective: A Progressive Hybridization 
We've discussed the culture of artistry and its appreciation by the masses, as well as creative appreciation through the use of traditional art galleries and NFTs. These platforms have each earned a reputation for conveying messages from the artists' works to the public. 
Now, to address a question that resonates with everyone in the art community, "Could NFTs replace traditional fine art?" 
The sustained growth of the NFT space has caused several notable art galleries to restructure their business models to compete. This reorganization has resulted in some galleries becoming involved in the NFT space. 
This rebranding has led to a fusion of art galleries displaying NFT works alongside their traditional creative pieces, as highlighted in the examples below. 
On March 11, 2021, Beeple's NFT Everydays: The First 5,000 Days sold at Christie's for $69.3 million. 
Two weeks after the Beeple auction, KÖNIG GALERIE held their own NFT auction in the crypto-metaverse platform: Decentraland titled: 'The Artist is Online: Digital Paintings and Sculptures in a Virtual World' which featured works by eight artists, including Mario Klingemann and Kenny Schachter.
"As a gallery, we have always been exploring new developments in the art scene," said founder Johann König, who had been following NFTs before Beeplemania. 
"With the COVID pandemic, of course, the urgency for galleries to find new ways to mediate art has increased, which has strongly propelled digitalization in general." 
König stated that for established galleries selling NFTs, "trust and reputation are the most important factors. Renowned artists are always more likely to be a good investment also when holding your NFT long-term. "  
The illustration above proves that it is possible to have the best of both worlds, as, ultimately, the art community lives for the consumption of art, either physically or virtually. 
These methods of exhibiting art have preserved a long-living line of culture while also allowing artists to express themselves through their work. Bringing an idea or something to life requires a significant amount of effort, and traditional art galleries, NFT marketplaces, and virtual galleries have crowned the tireless efforts of these artists by providing these platforms. 
So, rather than talking about how one form supersedes the other or how one might be perceived as outdated while the other is seen as modern, we must consider these platforms as complementary means of spreading the culture and love for creative art. We believe that hybridizing traditional art galleries and Non-Fungible Tokens (NFTs) would be better for advancing the artspace than favouring one over the other.
If you would like to read more articles like this, visit DeFi Planet and follow us on Twitter, LinkedIn, Facebook, and Instagram.
"Take control of your crypto portfolio with MARKETS PRO, DeFi Planet's suite of analytics tools."