Last updated on November 17th, 2022 at 12:19 pm
As we eagerly await the transition to a more secure and censorship-resistant website that gives users complete control over their data, it is critical to understand how we can profit from this new decentralized internet. The fantastic thing about the current web version (Web2) is that users can make money from it. For instance, people sell apps that help individuals and businesses save time, save money, and become profitable.
Given the Metaverse hype, many people are curious about Web3 and whether it will be the next big thing in the web space. As a result, this article will explore four ways internet users can profit from the decentralized internet. But first, let's take a look at the evolution of the internet and what Web3 represents. 
What is Web3?
Web1 is the version of the internet that was available to regular users in the 1990s. Because digitizing print media was one of the first things people did with the internet, Web1 sites like Yahoo!, AOL, and Craigslist were mostly limited to static content like news, phone books, and classified ads.
After the dot-com boom, increased internet speeds and developer tooling gave rise to Web2, which was characterized by greater engagement and sociability. Even though most users make little to no money from their online activities, Web2 made it possible for anybody to create content through personal websites and social media.  
Web2 giants like Google, Apple, and Facebook discovered methods to profit from consumers by selling their personal information as well as from third-party developers by charging high commissions on app sales. People have criticized these monopolies for arbitrarily restricting, censoring, and banning users, as well as failing to adequately punish privacy violations and data leaks. 
In a nutshell, Web1 offered people things they could only read, whereas Web2 permitted users to read and publish at the expense of their privacy and fair compensation. 
Web3 employs blockchain technology to enable people to access and create content while ultimately owning their data and assets. 
This change brings about several benefits, including the ability of Web3 users to be in charge of sharing or monetizing their data. Since users can now exercise voting power over their favourite platforms, they will rely less on centralized parties.
One of the main arguments against Web3 adoption is that end-users do not genuinely care about digital ownership. The Web3 revolution, however, is not dependent on customers adopting decentralized concepts overnight. Instead, developers, business people, and innovators will progressively convert customers to  Web3. 
Relationship Between dApps, Blockchains, and Web3
User empowerment, blockchain technology, and dApps (decentralized applications) are all inextricably linked. Users must be able to talk to each other directly if they want to interact with their peers without a company collecting and sometimes limiting information along the way. 
But how can a program function without corporate backing? Rather than running on a company server, dApps accomplish this by existing as smart contracts on a public blockchain such as Ethereum. Public blockchain networks enable dApps to provide services to anyone, even if they are not backed by a company or organization.
Below is an example of how a Web3 decentralized finance app connects users, as opposed to a traditional financial app, which connects each user to a bank.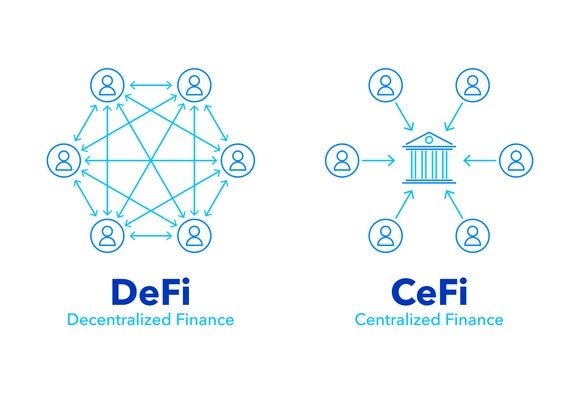 Users are no longer under centralized control, so they can now work together directly to build digital ecosystems, earn cryptocurrency tokens, and maybe even get some of the benefits of building a successful online environment.
Why Should You Invest in Web3?
Investing in Web3 has numerous advantages. Some of which include:
The global market for Web3 is expected to

grow to $176 billion by 2025.

Data collection and use with Web3 is safer and more efficient.

It enables businesses to create novel, cutting-edge goods, and services that they can sell directly to customers.

Because the global Web3 market is still developing, there is plenty of room for expansion.

 
Strategies for Making Money from Web3
Digital Art
Do you think you can sift through the crowded NFT market and find a hidden gem that you can easily sell for a million dollars in a few years?
Trading NFTs is one of the ways to make money on Web3. Because NFTs are more visually appealing than cryptocurrencies, which are just numbers on a screen, this may provide you with a higher level of security than investing in cryptocurrencies.
Buying digital art is the first step in investing in NFTs. 
The process of purchasing and selling digital art should be similar to that of "real" art.
According to a machine-learning study, the artist's status and current bid are the most important influences on art values. 
So, how would you identify a renowned artist? 
You can easily find these artists on Reddit or Discord. Examine their artwork to determine which studio they are currently or have previously worked with. Examine the places where the artist's work has been displayed, even if they have never been in a studio.
Finally, by visiting markets such as OpenSea, you can check the bidding prices of artists' paintings. You should take note if you notice a rising trend in the value of their work over time. 
Buying and Holding
Another way to profit from Web3 is to purchase and hold cryptocurrency. Profits can be maximized by buying low and selling high.
For newcomers, digital currencies such as Bitcoin ($21,000, June 2022) and Ethereum ($1,213, June 2022) may be prohibitively expensive, but emerging currencies such as Solana ($41.74, June 2022) are promising alternatives. 
Alternatively, you could invest in stablecoins such as the USD-pegged Tether. 
It also has the benefit of being a cryptocurrency, allowing you to use it wherever you see fit. Its cost rises as the US dollar's value rises relative to the currency used to purchase.
Staking
Crypto-staking allows you to earn money simply by holding onto your cryptocurrency. In essence, you contribute your cryptocurrencies to a staking pool and earn a dividend over time. The staking pool is used for Proof-of-Stake consensus, which is a less energy-intensive method of verifying blockchains. If your token is chosen to verify a block on a blockchain, you will be compensated. If you are unfamiliar with blockchain technology, staking is similar to making a term deposit in which your principal and interest are returned at the end of the period. 
Metaverse Real Estate
Investing in metaverse real estate is another NFT-based Web3 investment strategy. It all comes down to location, just like in real life. But how do you assign a monetary value to real estate in the metaverse? 
Although there is no easy way to do it, large corporations typically forecast future cash flows based on current advertising revenues. 
Assume a company can consistently generate $10 million in annual revenue by running Facebook advertisements. This company is betting that advertising in the metaverse will generate at least the same revenue.
Essentially, businesses seek metaverse real estate that provides the same number of product views as Facebook advertising. This discussion does not consider financial modelling because it is oversimplified, but it is required when purchasing metaverse real estate. 
As a result, this logic is simple. Your property plot should be located near a busy intersection, such as the city centre.
Important Tips to Note When Investing in Web3
The Buy-Low, Sell-High Approach.
One thing to keep in mind is to buy low and sell high, particularly if you are only interested in the project's short-term value. This strategy can assist you in making a profit even if the market is declining. You can continue to profit by purchasing assets when they are cheap and selling them when they are expensive. 
Of course, there is no guarantee that these methods will always work. Web3 tokens are volatile, making forecasting their future course difficult. However, if you are persistent and lucky, you can make a lot of money by investing in cryptocurrencies.
Knowing What You're Investing in is Important.
There are numerous Web3-related projects and cryptocurrencies, each with unique characteristics that increase or decrease their appeal. 
If you understand the goals of Web3 startups, you may be able to make better investment decisions. It is also important to remember that the value of a cryptocurrency is often linked to the project. If one Web3 project receives more attention than others, investing in the project's native token may be a good idea.
Never Risk More Than You Can Afford to Lose on an Investment.
To maximize your profits, you can employ a variety of trading strategies. The most important thing to remember is to always be cautious.
Since there is always the risk of losing everything, only invest money that you can afford to lose.
In Conclusion
In contrast to the Metaverse frenzy that swept the cryptocurrency markets, Web3 focuses on technology that is largely hidden from the user. As technology advances, it will take some time for the Web3 platforms and their tokens to gain popularity. 

Although Web3 is largely a marketing gimmick, the concept of decentralizing Web2 platforms is authentic. People haven't paid much attention to dApps and Web3, but as cryptocurrency trading grows in popularity, users will recognize Web3's potential.

Simply because Web3 has been successful for others does not mean that investors unfamiliar with it should invest in it. If you don't understand what Web3 is, don't invest in it.

Web3 is believed to be the future of the internet.
Disclaimer: This article is for informational purposes only and should not be considered trading or investment advice. Nothing herein shall be construed to be financial, legal, or tax advice. Trading or investing in cryptocurrencies poses a considerable risk of loss.
If you would like to read more news articles like this, visit DeFi Planet and follow us on Twitter, LinkedIn, Facebook, and Instagram.
"Take control of your crypto portfolio with MARKETS PRO, DeFi Planet's suite of analytics tools."