Last updated on February 28th, 2022 at 01:16 pm
Bitcoin was created due to the instability of the 2008 Great Recession, as people grew increasingly skeptical of banks and their role in the financial system. Satoshi Nakamoto published a white paper in response to the centralized management of money and the trust necessary in managing citizens' cash. And the rest is history.
Famous Economist Milton Friedman in 1999 said that electronic cash was necessary for the newly found internet and was also a logical tool for limiting government overreach. "I think that the internet is going to be one of the major forces for reducing the role of government. The one thing that's missing but that will soon be developed is a reliable e-cash method whereby on the internet you can transfer funds from A to B without A knowing B or B knowing A."
He went on to say that the money supply and monetary policy should be set up by a computer so that people cannot corrupt it.
The Emergence of Bitcoin 
Although the first bitcoin transaction occurred in 2009, the origins of the most popular cryptocurrency may be traced back to 1983. In 1983, David Chaum, an American cryptographer, started experimenting with the concept of electronic currency. He was a member of Cypherpunks, a movement that advocated for the use of cryptography and computers to safeguard people's privacy.
Digicash
Chaum's goal was to establish a more secure and anonymous transaction system, which led to the development of the blind signature protocol. Later that year, in 1989, the company Digicash was founded, which was a functional cryptographic electronic money system.
Digicash launched its e-cash system a few years later, in 1993. A product that allowed the secure and anonymous transmission of funds via the internet. According to insiders at the time, e-cash was a technically flawless solution that removed many of the problems associated with credit card payments, such as security concerns and costs.
David considered using credit cards online risky. Despite his noble intentions, the United States government perceived his work as a threat.
Buyers began to show extraordinary interest in the e-cash product. At the height of the buzz, David Chaum got called by Bill Gates, who wanted to integrate e-cash into every copy of Windows 95. Chaum rejected the offer, as well as every subsequent offer. He wanted e-cash to be flawless because he believed in the value of his effort.
David eventually lost control of Digicash due to infighting, and the firm was taken over by external investors. Following this, Digicash began presenting their products to banks; while some were intrigued, the greater majority were cautious and preferred sticking to the lucrative credit cards rather than trying new products. By 1998, Digicash had gone bankrupt, marking the end of the first wave of digital money.
B- money
The market for firms based on cryptographic money grew in the mid-1990s. They were all riding the wave of interest created by digicash. The movement persisted, and several innovative ideas were discussed on message boards. Some of these concepts were extremely helpful to what would eventually become bitcoin.
Wei Dai, a University of Washington graduate, created B-money in 1998. B-money was created to allow internet economies to function completely free of external control.
B- money was ultimately theoretical, and while it was popular, it never gathered enough support to become a reality. Other ideas in the online community were less useful. For example, in Jim Bell's assassination politics essay, where he proposes an encrypted payment system to be utilized by disgruntled individuals who were dissatisfied with their political representatives. Money might be secretly given to a pool until the number was large enough for someone to collect the reward and murder a politician; it was an idea that finally led to Bell doing time in prison in the midst of all of this upheaval.
A step closer to Bitcoin – Bit Gold
Suggested by ex-Digicast employee Nick Szabo in 1998,Bit Gold was the most notable idea of all the other ideas that had come up during the time. Instead of a digital currency being a token that reflects fiat money, Nick proposed that the digital currency itself be a valuable commodity that would be paid to miners for solving cryptographic equations. Bit Gold was distinct from all prior concepts in that it was fully decoupled from any dependency on banks.
Nick Szabo explains "I was trying to mimic as closely as possible, in cyberspace, the security and trust characteristics of gold, and chief among those is that it doesn't depend on a trusted central authority."
Despite its remarkable progress, Bit Gold, like B-money, was never extensively embraced.
The History of Bitcoin 
Fast forward to August 2008, when the domain name bitcoin.org was anonymously registered. On the 31st of October 2008, Satoshi Nakamoto uploaded a paper titled "Bitcoin: A Peer-to-Peer Electronic Cash System" to a cryptography email group. Here he proposed the core outline for Bitcoin in the article; this document triggered a cryptographic chain reaction that altered the direction of financial history.

On January 3rd, 2009 the first block of bitcoin, Genesis was mined. Within this very first block, a

special message

was embedded that stated "The Times 03/Jan/2009 Chancellor on brink of second bailout for banks". 

The first bitcoin transaction was completed nine days after the first block was mined. The transaction was between Satoshi Nakamoto, the founder of Bitcoin, and Hal Finney, a cryptography enthusiast who would assist Satoshi in fixing problems and improving security in the early days. It was a total of ten Bitcoin, all of which were worthless at the time because there were no exchanges to set a price.

On January 9, 2009, Nakamoto published version 0.1 of the bitcoin software on SourceForge, launching the network by creating the

genesis block

of bitcoin (block number 0), which contained a reward of 50 bitcoins.
What Is Bitcoin Used For
Bitcoin was developed to allow individuals to transmit money over the internet. The goal was to establish an alternative payment system that operates independently of central control but may otherwise be used in the same way as existing currencies.
As a result, Bitcoin may be defined as a currency because its original purpose was to be able to buy and sell items i.e., serve as a payment system. However, according to the Commodity Exchange Act (CEA), Bitcoin is a commodity. Because it is not regarded as a security, it may be freely traded on both traditional asset markets and cryptocurrency exchanges.
Defining whether Bitcoin is a commodity or a currency is crucial as it will be the deciding factor when it comes to regulations.
The Trajectory of Bitcoin to date
2009

– Bitcoin was first established, at a price of zero.

July 17, 2010

– Its price increased to $.091

April 13, 2011, to June 7, 2011

– the price of Bitcoin increased by 2,960 percent, rising from $1 to a high of $29.60 in three months.

November 2011

– A rapid contraction in cryptocurrency markets ensued, with Bitcoin's price reaching a low of $2.05.

May 9 to August 15, 2012

– The price increased from $4.85 to $13.50 the following year. Bitcoin 2013 had a rather quiet year, with significant price increases. It began the year trading at $13.28 and hit $230 on April 8, with the price dropping to $68.50 a few weeks later on July 4.

October 2013

– Bitcoin was trading at $123.00.

December 2013

– Bitcoin had spiked to $1,237.55 and fell to $687.02 three days later.  

Bitcoin's prices slumped through

2014

and touched $315.21 at the start of

2015

.

2016

– Prices gradually increased to moreover $900 by the end of the year.

2017

– Bitcoin's price stayed at $1,000 until mid-May when it broke $2,000, and then surged to $19,345.49 on 15th December
Investors, politicians, economists, and scientists took note, and other institutions began inventing cryptocurrencies to compete with Bitcoin.
For the following two years, Bitcoin's price fluctuated sideways with brief spurts of activity. In June

2019

, for example, there was a revival in price and trade volume, with prices above $10,000. However, by mid-December, it had dropped to $6,635.84.

2020

– Bitcoin's price surged once more when the economy slowed due to the COVID-19 outbreak. It began the year at $6,965.72. The lockdowns during the pandemic and the government actions exacerbated investors' concerns about the global economy, hastening Bitcoin's growth. Bitcoin was worth $19,157.16 at the end of the day on November 23. In December 2020, the price of bitcoin was a little under $29,000.

2021-

Bitcoin broke its 2020 price record in less than a month, exceeding $40,000 on January 7, 2021. 

After Coinbase went public, Bitcoin values reached all-time highs of nearly $60,000 by mid-April. Commercial interest pushed the price even higher, and Bitcoin hit a high of moreover $63,000 on April 12, 2021. By the summer, prices dropped by half, with bitcoin trading at $29,795.55 in July. Autumn had another bull run in September, with prices reaching $52,693, before plummeting to $40,709.59 around two weeks later.

On November 10, 2021

, Bitcoin achieved an all-time high of $68,990. The price then dropped to $49,243 in early December 2021.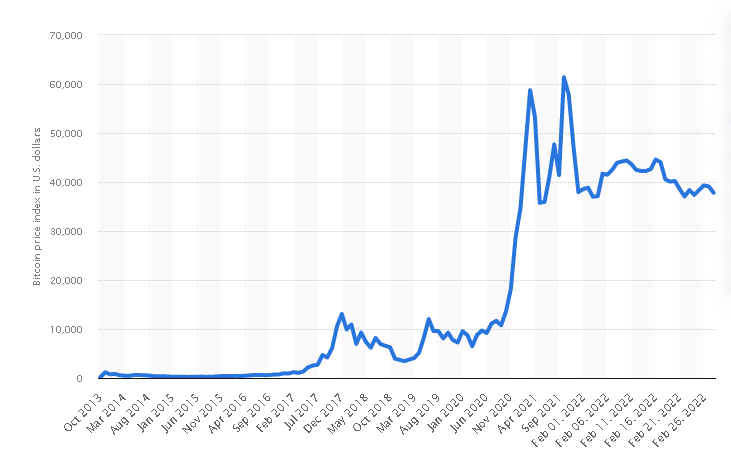 The Future of Currency?
Even though bitcoin has shown volatility and price declines, many experts are positive about its future. Goldman Sachs mentioned that there is a possibility that Bitcoin can reach a valuation of $100,000 in the future.
Bitcoin and other cryptocurrencies are determined by perceived value as well as supply and demand, similar to any other currencies, products, or services within a country or economy. People would be willing to pay if Bitcoin is worth a certain amount, especially if they believe that it will rise in value in the future. 
Only 21 million Bitcoins will ever be generated therefore, as long as the demand remains constant or grows, the closer Bitcoin will come to its limit and the higher its price will be.
Conclusion
David Chaum invented DIgicash, a functional cryptographic electronic money system. 

Bitcoin was invented in 2008 by Satoshi Nakamoto.

Bitcoin was unique as it was an alternative payment system with no centralized authority.

Regardless of its volatile nature, there are many people who believe in the value of bitcoin because of its scarce nature and a limited supply of 21 million.
If you would like to read more articles like this, visit our Website.  You can also follow DeFi Planet on Twitter, Facebook, Instagram, and LinkedIn.