Introduction
The NFT market is predicted to grow to a valuation of $211.72 billion by 2030, demonstrating the enormous potential for wealth creation through this innovative concept. The sector's current valuation of $10 billion, as well as the estimated market valuation cited above, provide compelling evidence that NFTs are far more than overhyped digital art trading on blockchain networks.
To enter the NFT market, it's important to have access to high-quality NFT marketplaces. However, with the plethora of NFT marketplaces available, selecting the right one can be daunting. Creators, collectors, and traders must, therefore, carefully evaluate the available options to ensure they select the best marketplace that unlocks the maximum potential of their non-fungible digital assets.
This article explains what NFT marketplaces are, examines some of the top NFT marketplaces available, and offers tips on choosing the best one for your specific needs.
What are NFT Marketplaces?
NFT marketplaces connect buyers and sellers of digital assets on the blockchain. These marketplaces offer an excellent opportunity for buyers to access a wide range of NFTs and provide sellers with a large audience to sell their NFTs to.
In addition, some NFT marketplaces enable users to easily create their own NFTs. This process can be as simple as selecting your favourite digital artwork and uploading it to the blockchain as an NFT.
Each NFT marketplace has its own unique design and specifications that determine its functionality and usage. These features differ from one marketplace to another.
NFT marketplaces generate revenue by charging users a fee for using their platform. The fees charged by these marketplaces vary based on the features and services they offer.
Top-Rated NFT Marketplaces in 2023
Let's take a look at some of the top NFT marketplaces available today, starting with: 
1. OpenSea 
OpenSea was the first NFT marketplace on the Ethereum network and has quickly become one of the most popular. The platform offers a vast array of digital art and supports collections from both famous and amateur artists.
On average, OpenSea receives 40 million website visits monthly, making it the go-to destination for NFT buyers and sellers. In fact, as of December 10, 2022, the platform had collected $1.8 billion in fees over the previous year, earning $571.1 million in revenue and accounting for approximately 31.73% of total collected fees. OpenSea raised $300 million in its last funding round in 2022 and was valued at $13.3 billion, a 7.8X increase over the previous year.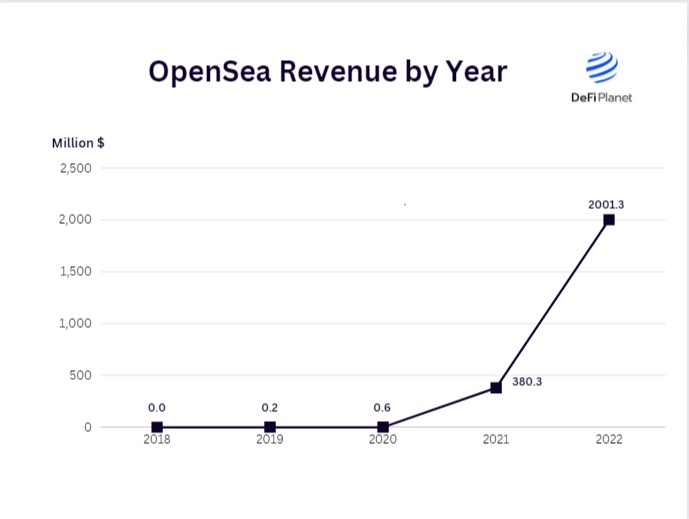 OpenSea's popularity can be attributed to several factors, including its ease of use for beginners and integration with multiple blockchain networks. Although OpenSea was originally created to support Ethereum-based NFTs, it now supports NFTs on other networks, including Solana, Arbitrum, Optimism, and Polygon. Additionally, the platform is accessible through various crypto/NFT wallets, making it easier for users to trade their NFTs.
OpenSea used to charge a 2.5% fee and a fixed 10% royalty for trading NFTs, but it recently switched to a 0% fee marketplace with optional royalties for creators. The move to a 0% fee NFT marketplace may have been influenced by competition, as OpenSea has announced it as a temporary move.
Sellers on OpenSea can set up timed auctions or make their NFTs available for on-demand sale. This flexibility makes it appealing to a wide range of users, including traders looking to make quick profits and collectors looking to hold on to their NFTs for longer periods.
Popular NFTs like CryptoPunks and Bored Ape Yacht Club are listed on OpenSea, making it an excellent platform for finding the most popular NFTs. Additionally, users can find diverse NFTs, from gaming to PFPs and membership NFTs, with a search tool that helps filter their search.
Finally, OpenSea also offers a "Learn More" section to help beginners get more comfortable with NFTs and using the platform. 
2. Rarible
Rarible is a multichain platform supporting networks like Ethereum, Polygon, Solana, and Tezos. It allows users to create, list, and purchase NFTs. Like OpenSea, Rarible offers a user-friendly interface suitable for beginners and experienced traders. This marketplace is especially well-suited for collectors and gamers.
When a trade occurs on Rarible, both the NFT buyer and seller are charged a 1% trading fee. Creators have the option to set royalties on their NFTs, ranging up to 10%. Creators can access tools to manage their royalty fees and track the resale of their NFTs. Rarible also functions as an NFT aggregator marketplace, enabling users to discover the best NFTs prices across multiple platforms.
The Rarible community plays a significant role in shaping the direction of the NFT marketplace through the RARI token. RARI is the native token of the Rarible marketplace, and token holders can contribute to decisions regarding trading fees and the implementation of new features. However, the Rarible team has the final say on these contributions.
3. SuperRare
SuperRare allows users to trade NFTs on the Ethereum blockchain network. One of the platform's standout features is its support for timed-auction sales of digital art, which often features exclusive works from well-known creators.
If you're a collector who's on the lookout for unique drops, SuperRare could be just what you need. However, it's worth noting that buyers are charged a 3% fee on every NFT purchase they make on the marketplace.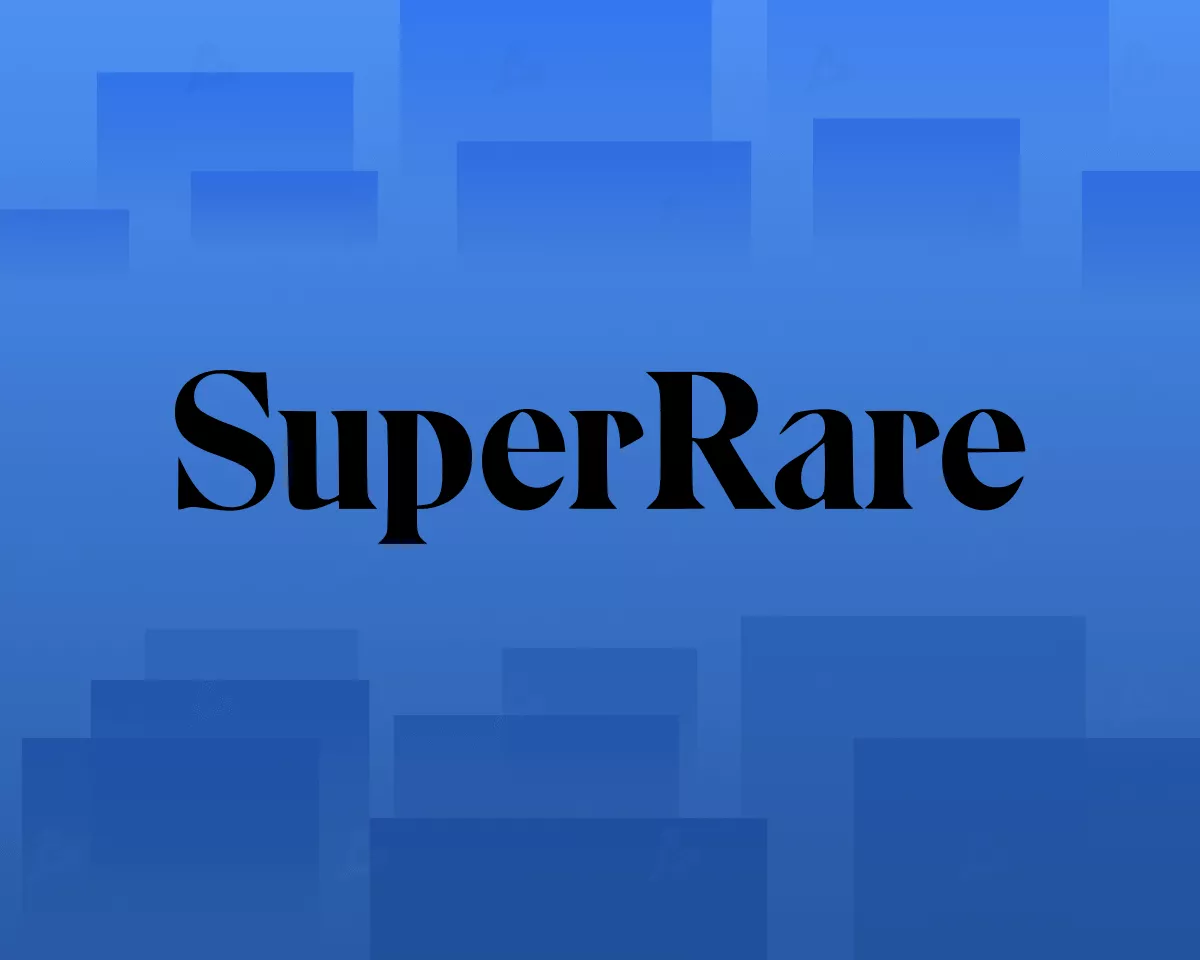 It's important to note that the SuperRare NFT marketplace is managed by RareDAO. Holding the RARE token, the native token of the SuperRare NFT marketplace grants users governance rights. This means that RARE token holders have a direct say in how the platform is run.
4. Mintable 
Mintable is an exciting marketplace that caters to the needs of creators, collectors, and investors. It is an all-in-one platform that allows users to easily buy, sell, and create NFTs.
One of Mintable's standout features is its support for multiple blockchain networks, including Ethereum, Immutable X, and Zilliqa. This feature enables seamless trading of your NFTs on the blockchain network of your choice.
Another advantage of using Mintable is its affordable fee structure. The platform charges a minimal 2.5% fee for regular NFT transactions, making it one of the most cost-effective options available. Users can also create gasless NFTs, which do not require any gas fees for purchasing, or printable NFTs, which can be transformed into physical or 3D items, albeit at a slightly higher fee of 5% and 10%, respectively.
Lastly, Mintable offers the convenience of purchasing NFTs with debit or credit cards. If you prefer using traditional payment methods, you can easily avoid the complexities of cryptocurrency transactions.
5. Nifty Gateway
Nifty Gateway is a prominent addition to the list of popular NFT platforms embraced by the thriving NFT community. What sets Nifty apart from its counterparts is its unique custodial approach. 
NFTs on Nifty Gateway are securely stored in a dedicated wallet managed by the Nifty team. This may sound unusual at first, but it actually results in a smoother user experience on the platform. For example, when minting an NFT on Nifty, users don't need to worry about gas fees, unlike other marketplaces. This streamlined approach saves users valuable time and simplifies the entire NFT creation journey.
Nifty Gateway takes special care to ensure the authenticity of listed NFTs. Each item available on the platform undergoes meticulous verification by the Nifty team, guaranteeing buyers that they are acquiring genuine and valuable NFTs.
In addition to its web-based version, Nifty Gateway offers a convenient mobile counterpart, allowing users to easily access the platform while enjoying an optimized user experience. This mobile accessibility further enhances the platform's appeal, particularly for newcomers eager to dip their toes into the waters of NFT ownership and trading.
6. Magic Eden
Built on the Solana blockchain, Magic Eden offers a refreshing approach to NFT trading. While it primarily focuses on Solana-based NFTs, it has recently expanded its reach to include the Ethereum and Polygon blockchains, creating boundless opportunities for collectors and creators.
One standout feature of the Magic Eden NFT marketplace is its commitment to transparency and community involvement. Through MagicDAO, a decentralized governing body, the platform ensures that decisions are made collectively, empowering users and giving them a voice. By owning the exclusive 'magic tickets' NFT, community members can actively influence the platform's direction and policies.
In addition to its community-centric approach, Magic Eden also greatly emphasizes quality assurance. Each new NFT listing undergoes a rigorous vetting process conducted by the experienced team at Magic Eden. By doing so, they maintain a high standard of excellence and ensure that only verified and authentic NFTs are showcased on the marketplace. This dedication to quality provides peace of mind for buyers and sellers alike.
Recognizing the importance of fostering connections within the NFT ecosystem, Magic Eden features an exciting gaming platform that serves as a hub for the gaming community, allowing enthusiasts to come together, share their experiences, and engage on a personal level.
With a modest 1.5% marketplace fee and a flexible royalty payment system, Magic Eden strikes a balance between providing fair compensation for creators and maintaining accessibility for buyers. This thoughtful approach benefits artists and ensures users can confidently participate in the marketplace.
7. Topaz
The Topaz NFT marketplace is gaining popularity as one of the leading platforms for buying and selling NFTs. Despite being relatively new, it has quickly become a user favorite. This is partly due to its first-mover advantage, as it was the first NFT marketplace on the Aptos network.
Topaz supports NFT trading on the Aptos network, charging a 2.5% platform fee and a 5% creator royalty. The marketplace also offers a launchpad feature that helps creators promote their NFT collections without incurring extra marketing costs. However, the Topaz team has a strict verification process for selecting the collections listed on its launchpad.
Topaz also facilitates the creation of liquidity pools with NFTs. Although this feature is considered experimental, it introduces a novel approach to NFT trading. With sufficient market liquidity, users have more opportunities to engage in trades. 
Users who contribute their NFTs to a liquidity pool can earn extra fees. Nevertheless, it's important to note that this process bears certain risks and may be complicated for individuals new to NFTs and liquidity provision.
8. Element
Element is a feature-rich, multi-chain aggregator NFT marketplace that enables users to create, purchase, and sell NFTs. The platform supports a wide range of NFTs across various blockchain networks, including Ethereum, Polygon, Solana, Avalanche, and BNB.
Element sports a pretty nice feature called "batch buying." This functionality allows users to select multiple NFTs, bundle them as one, and then pay gas fees only once to buy the bundled NFTs. This helps reduce costs compared to paying gas fees individually for each NFT when purchasing multiple NFTs simultaneously.
Additionally, the Element marketplace includes a quick sweep feature that enables instant NFT purchases. This feature particularly appeals to pro traders who value efficiency and prompt transactions.
9. Blur
The Blur NFT marketplace offers a platform for buying and selling NFTs on the Ethereum blockchain. It also serves as an NFT aggregator, simplifying the search for the best NFT prices by simultaneously scanning multiple marketplaces.
Blur charges a 0% marketplace fee and does not enforce royalties. However, it offers extra incentives to traders that pay royalties.
The marketplace is governed by its community through the BLUR native token. The BLUR token is distributed to the most active users based on a point system. 
Blur has a 'BLEND' feature that enables peer-to-peer lending within the marketplace. BLEND allows you to buy and own high-value NFTs by making partial payments, similar to a mortgage for a new house. This feature brings decentralized finance (DeFi) practices into the realm of NFTs.
Since its launch in October 2022, Blur has gained over 140,000 unique users and has achieved a trading volume of up to $1.4 billion. Although the Blur NFT marketplace is open to everyone, it is particularly well-suited for pro traders.
How to Choose the Best NFT Marketplace
Choosing the right marketplace for minting, buying, or selling your NFTs can be daunting, given the unique features each popular NFT marketplace offers.
To choose the best NFT marketplace that aligns with your needs and preferences., you should consider the following factors:
1. Fees
One crucial factor to consider when choosing an NFT marketplace is the fees involved. Different NFT marketplaces have varying platform fees, so it's important to choose what works best for you. For example, SuperRare charges buyers a 3% fee, while Rarible imposes a 1% trading fee on both buyers and sellers.
It's also worth noting how royalties are handled on each NFT marketplace. Some platforms enforce fixed royalties, while others allow creators to determine flexible royalty rates.
2. Features
Sometimes, the best marketplace for trading NFTs is the one that offers the most convenient features. For instance, Mintable provides a gasless minting feature, which can be a great choice for users when gas fees on the Ethereum network are high. On the other hand, Nifty Gateway may be ideal for beginner NFT traders as their team verifies every NFT listed on their marketplace.
3. User Experience
The user experience of NFT marketplaces plays a crucial role in choosing the right platform. Some marketplaces cater to professional traders, while others are more suitable for beginners. Nifty Gateway, for example, supports fiat currency and is user-friendly, making it a good fit for new traders. Additionally, it offers a mobile-friendly interface, allowing users to trade NFTs without needing a large screen.
4. Selection of NFTs  
The selection of NFTs available on a marketplace is another important consideration. If you're interested in rare and limited-edition art NFTs, SuperRare may be the best option for you. On the other hand, OpenSea offers a wide range of NFT collections, including limited drops, timed auctions, and less popular mints.
NFT Trends
NFTs, similar to cryptocurrencies, are influenced by market trends. Lately, there has been a noticeable shift towards the adoption of NFT marketplaces that offer zero marketplace fees, do not impose royalties, and issue their own native tokens.
For instance, the 2.5% fee charged on OpenSea has been challenged by newer NFT marketplaces. One such is the Blur NFT marketplace. The Blur NFT marketplace charges a 0% fee for both trading and royalty and quickly captured most of the users on OpenSea. 
For instance, the emergence of new NFT marketplaces has challenged the 2.5% trading fee imposed by OpenSea. One such marketplace is Blur, which charges zero fees for trading or royalties, attracting a large portion of OpenSea's user base. Blur, in addition to its gasless policy, rewards its users with the BLUR token. 
At its peak, Blur NFT surpassed OpenSea in terms of trading volume, prompting OpenSea to consider a fee model with no charges and more flexible royalties. Despite being launched in late 2022, Blur NFT has made quite a significant impact within a short period.
This event indicates with an exceptionally comfortable degree of certainty that trends within the NFT community may influence how NFT marketplaces operate.  
In Conclusion,
NFT marketplaces are crucial for trading non-fungible digital assets on the blockchain.

Choosing the best platform can be challenging due to the availability of various marketplaces.

OpenSea and Rarible are popular marketplaces but may not suit everyone's needs.

Newer marketplaces have emerged with unique designs, such as gasless minting and zero-fee transactions.

The success of these marketplaces depends on their ability to meet user needs in the current market.

NFT marketplaces will continue to evolve to support the creation and trading of digital assets on the blockchain, regardless of whether NFTs are a passing trend or not.
Disclaimer:
This article is intended solely for informational purposes and should not be considered trading or investment advice. Nothing herein should be construed as financial, legal, or tax advice. Trading or investing in cryptocurrencies carries a considerable risk of financial loss. Always conduct due diligence.
"Take control of your crypto portfolio with MARKETS PRO, DeFi Planet's suite of analytics tools."